21 Types of Nails (Fasteners) – Uses, Components, Application & How to Use in Construction? [with Pictures & Names]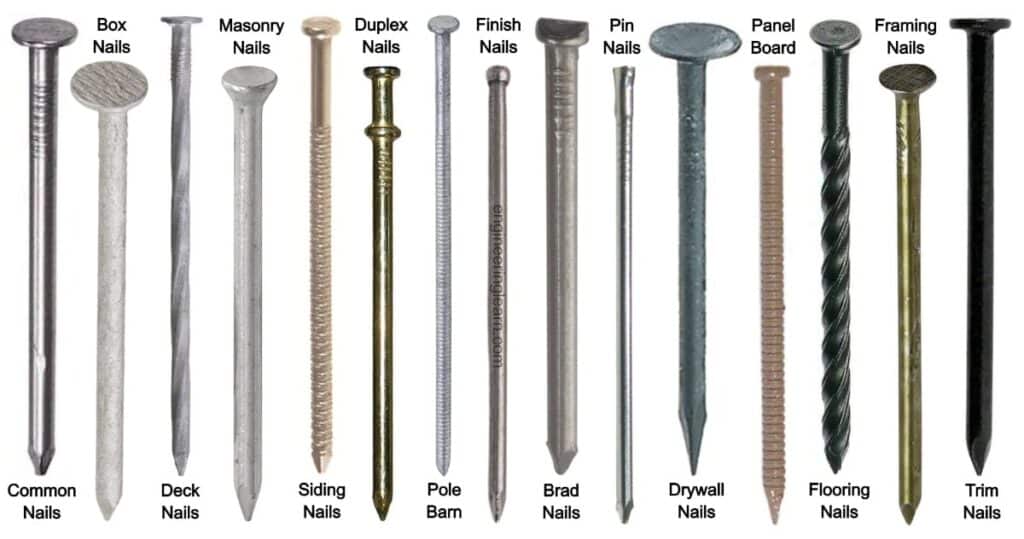 What are Nails?
Types of Nails – Uses, Components, Application & How to Use in Construction: – Nails are a fundamental type of fastener that has been used in building for at least 3,000 years. They are most typically used for combining pieces of wood or securing materials to wood and are appropriate when a screw is not required.
Nails are often driven into place by giving them a hard blow on the head. The nail is less likely to bend or break when driven in this way. It is advisable to drive nails into the wood at a little angle to the grain to prevent splitting. A "pilot hole" smaller than the nail diameter may be needed when the wood is liable to break or when a nail is needed close to an edge.
A Nail's Components
The three basic components of a nail are the point, which penetrates the workpieces, the shank or shaft, which holds the work pieces together and offers the bulk of the strength and holding power; and the head, which facilitates driving the fastener and helps to prevent the nail from pulling through the workpieces. These components' various nail designs provide the nails with various functions and uses.
1. Sharp Points
Diamond-shaped tips are usual on nails made for common usage and make driving the nails simpler. Long diamond-shaped tips reduce the likelihood of related materials separating.
It is more difficult to drive a nail with a blunt tip, but the workpiece is less prone to split.
2. Nail Heads
For ordinary fastening and construction, round-headed nails are frequently used. Although it produces a coarser finish than other varieties, a spherical head enables good contact with the hammer.
The flathead is a rounded, large fish. They make driving the nail simpler and lessen the chance that the piece of work will pull through the head of the nail.
The raised design on checkered heads helps keep the hammer from sliding off the nail.
Clipped heads are D-shaped heads that are relatively tiny and made for strip nailers. They make it possible to collate or unite the nails tightly in a line.
3. Nail Shanks
A smooth shank is simple to drive but provides little resistance to withdrawal.
The nail spins as you drive it thanks to a spiral or screw shank, which is similar to the threads of a screw. The nail is easy to drive and is kept in position by the thread or flute on the shank.
Softwoods frequently employ annular or ring-shank nails. The rings link with the wood fibres like a spiral shank, offering high gripping strength.
Types of Nails
All nails have the same basic function of holding work components together; however, in addition to this fundamental function, certain nails also have other functions, such as supporting structural hardware, withstanding harsh outdoor conditions, or allowing for simple hiding. The traits and applications of some of the most popular nails are listed here.
1. Common Nails: ( Types of Nails )

Ordinary nails are suitable for common fastening tasks, such as framing and structural assembly in a building, as well as woodworking tasks. These nails work well for fastening tasks when strength is more important than aesthetics. A typical nail has a rounded head and a strong shank for support.
2. Framing Nails: ( Types of Nails )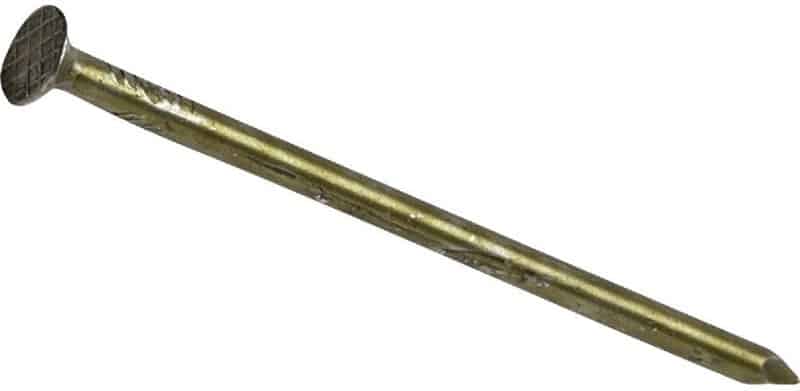 Frame nails may be used for craft and framing projects, much like regular nails. These are frequently seen collated for use with frame nailers. Depending on the nailer they use, they may have round, ring, spiral, or smooth shanks as well as clipped or unclipped heads.
3. Sinking Nails: ( Types of Nails )
Sinker nails usually feature a checkered head to keep the hammer from slipping off the nail head. The heads are designed to drive flush with the workpiece. The shank of a sinker nail is frequently coated with vinyl to make it easier to drive and grip, although the coating does not give corrosion protection.
4. Box Nails: ( Types of Nails )

The design of box nails is similar to normal nails; however, the shank is smaller. With a smaller diameter, there is less chance that the nail will break the wood as you drive it. It also implies the nails don't have the strength of ordinary nails; therefore, they aren't suited for structural applications.
5. Deck Nails: ( Types of Nails )

Deck nails, like sinker nails, frequently feature a checkered head for better contact with the hammer. To reduce splitting, they may have lower diameter shafts. The shanks are frequently adorned with rings or a spiral flute to aid in the retention of the nail. Deck nails are corrosion-resistant, allowing them to be used outside and with treated boards.
6. Roofing Nails: ( Types of Nails )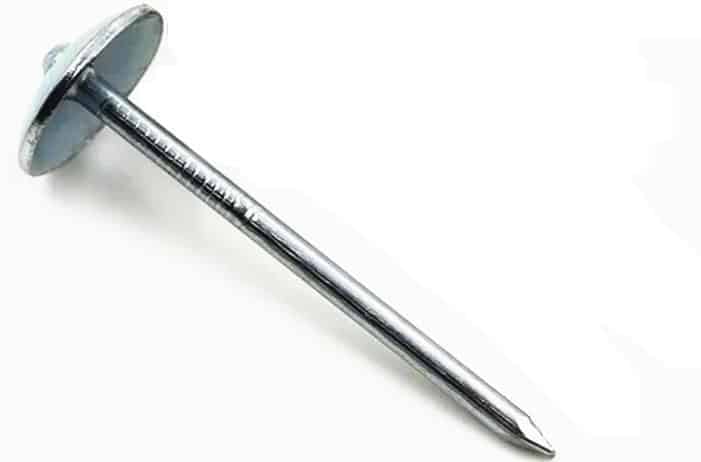 Asphalt shingles, roof felt, and nails secure roof decking or sheathing. Because they are exposed to the weather, they may be constructed of aluminum or have a corrosion-resistant coating. Some have a weather-resistant seal created by a gasket under the head. Roofing nails have bigger heads for their shank diameter, and ring or spiraling shanks are stronger for their length.
7. Masonry Nails: ( Types of Nails )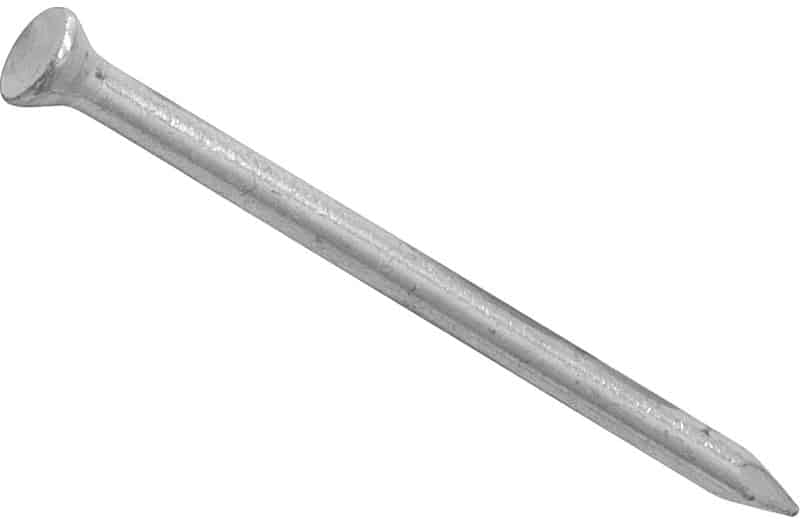 Masonry nails secure wood to brick, mortar, concrete block, or uncured concrete. They're built of hardened steel so that they can be driven into these materials. Some are flattened and singularized. Extruded masonry nails are often short and thick, with round, fluted, or grooved shanks. As the nail is pushed, the flutes rotate it, making driving simpler.
8. Siding Nails: ( Types of Nails )

Siding nails hold wood and fiber cement siding together. They are built of corrosion-resistant material or have a corrosion-resistant coating since they are exposed to the environment. Siding nails may have tiny heads to hide them after installation and ringed or spiral shanks to increase gripping force.
9. Duplex Nails: ( Types of Nails )
This type of nail, often known as double-headed nails, is intended for use in temporary constructions such as scaffolding. When driven into a substance, the higher head stays accessible for simple removal once the building activity is over.
10. Joist Hanger Nails: ( Types of Nails )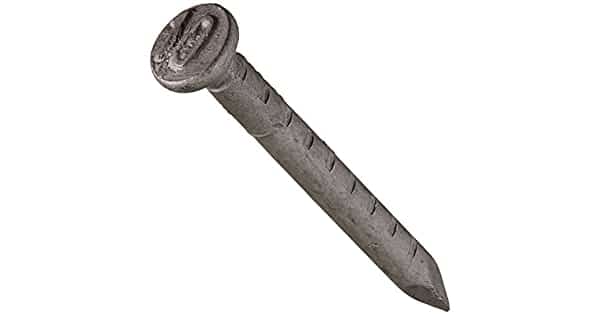 Joist hanger nails are used to secure joist hangers to wooden studs. These nails have a strong shank and are frequently hot-dipped galvanized for external usage and use with treated timber.
11. Pole Barn Nails: ( Types of Nails )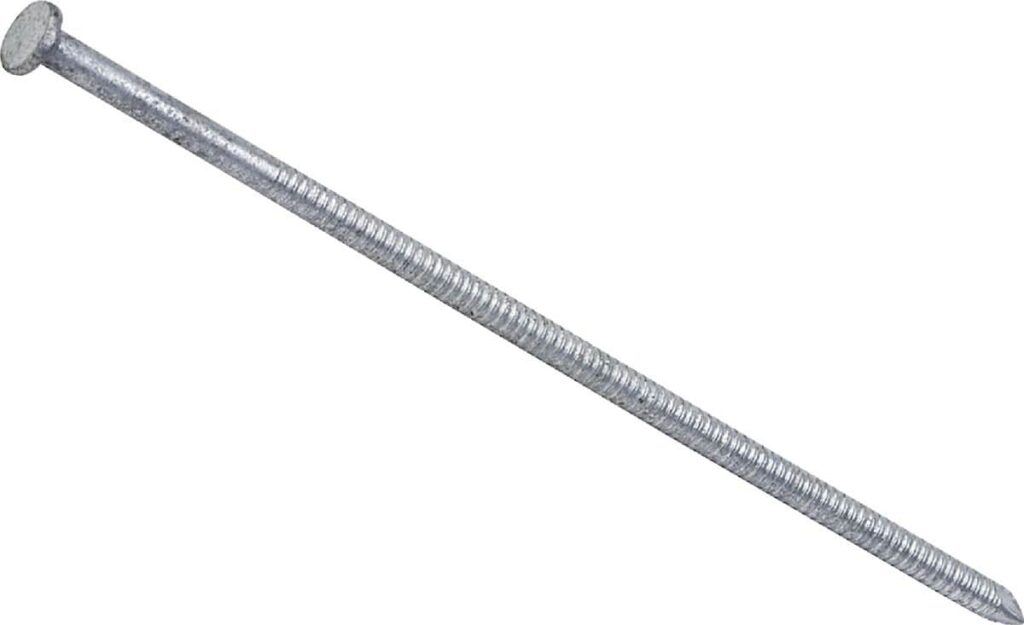 Pole barn nails are used in building projects that employ wood poles put in the ground to form the structure's foundation. Pole barn nails include ring shanks for added gripping power and a corrosion-resistant coating suitable with pressure-treated wood.
12. Connectors Nails: ( Types of Nails )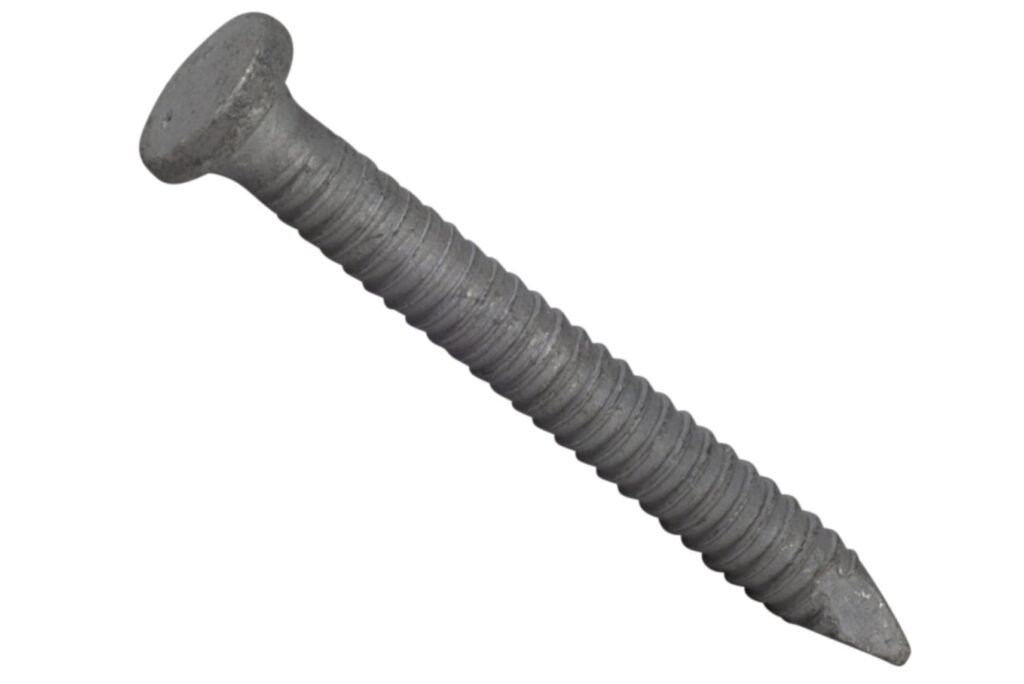 A smooth-shanked hot-dipped galvanized connection nail. Connector nails secure structural hardware like framing angles and rafter ties.
13. Cap Nails: ( Types of Nails )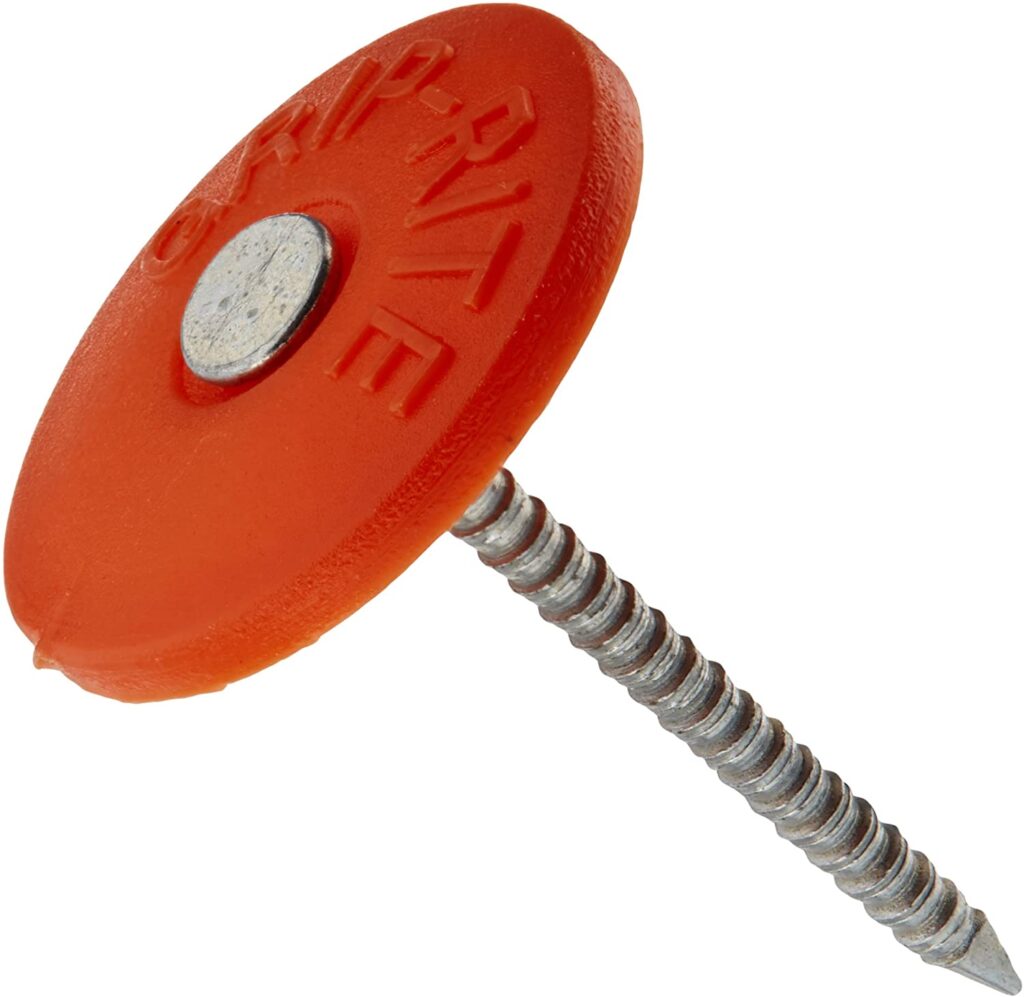 To fasten house wrap, felt, or foam insulation and avoid tear-out, cap nails include a plastic cover immediately under the nail head. The spiral shank of the nails keeps the fastening in place.
14. Finish Nails: ( Types of Nails )

Finishing nails are used in fine woodwork and cabinetry and perform well for molding. A narrow diameter shaft (typically 16- to 10-gauge) lowers the possibility of the workpiece separating. Finish nails feature tiny heads that can be driven flat to the workpiece or countersunk (driven below the surface using a nail set) to hide them.
15. Trim Nails: ( Types of Nails )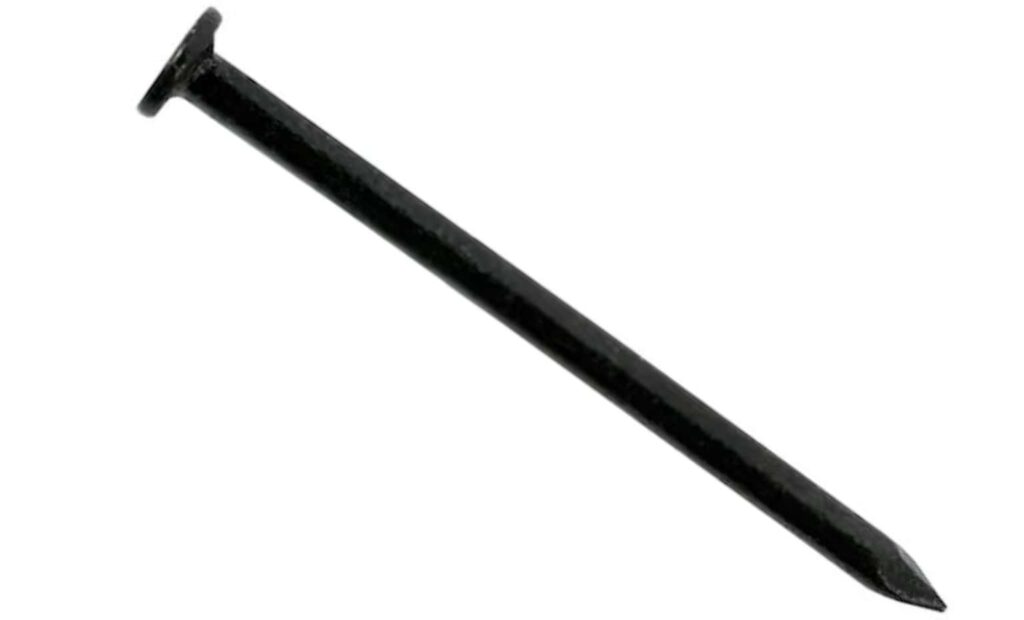 Trim nails are intended for usage on the outside of houses. They protect home gutters, fascia and soffit boards, and outside trim.
16. Brad Nails: ( Types of Nails )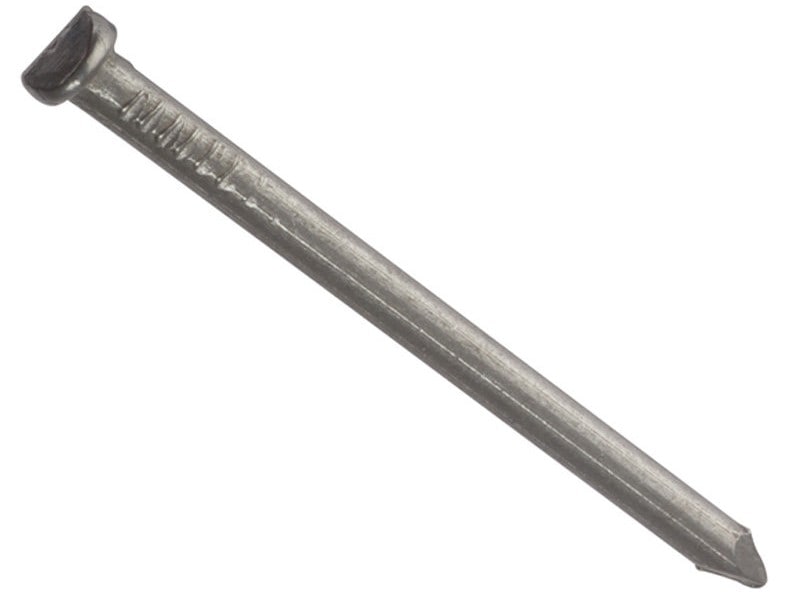 Brad nails are miniaturized counterparts of finish nails. They lack the gripping power of finish nails but are useful for woodworking, cabinetry, and craft work. Brad nails, like finish nails, have heads that are slightly bigger than the diameter of the shaft to allow for countersinking.
17. Pin Nails: ( Types of Nails )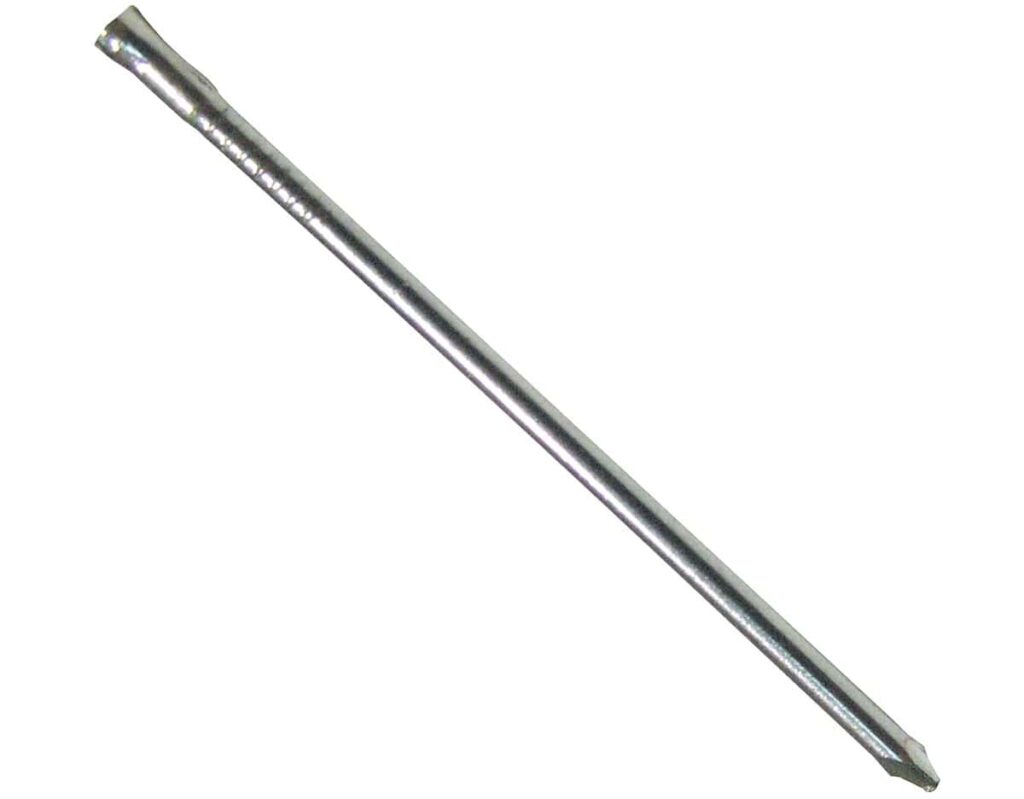 Pin nails are intended for use with nailers. These are incredibly tiny (23 gauge) and have no head. They don't have much-holding strength, but they're discreet and may be used in conjunction with glue to fix thin veneer and small molding and trim pieces.
18. Drywall Nails: ( Types of Nails )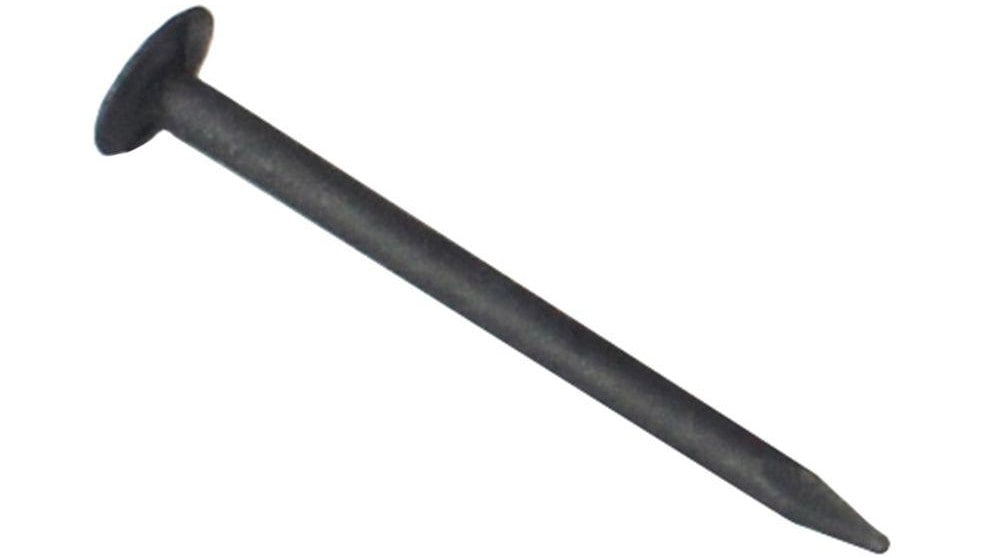 Drywall nails feature big, spherical heads that can be dimpled or countersunk. These characteristics enable them to be readily pushed beneath the surface of the wallboard for hiding while minimizing drywall paper ripping. Long diamond-shaped tips are also used to prevent wall studs from separating. To aid their retention, drywall nails with smooth or ringed shanks are available.
19. Flooring Nails: ( Types of Nails )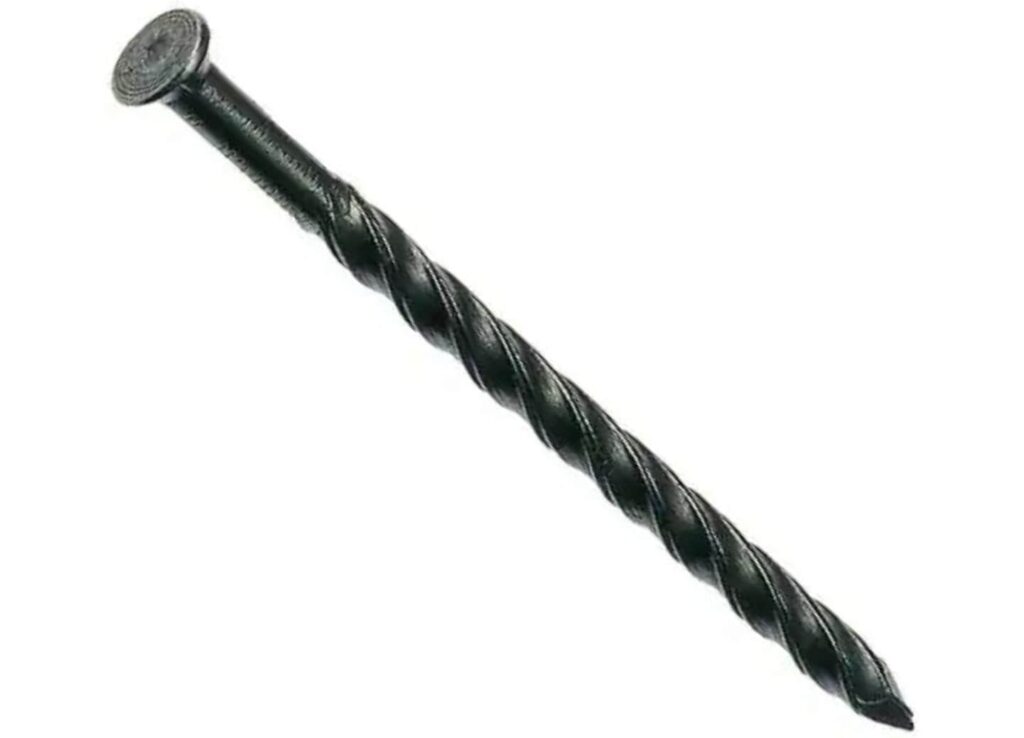 Flooring nails include nails designed for pneumatic nailers to install certain types of wood flooring, as well as small spiral nails used to fix flooring trim and nails with longer, ringed shanks used to install underlayment or subflooring.
20. Panel Board Nails: ( Types of Nails )

Panel board nails secure wall panels to studs or furring and feature tiny, circular heads. Some include ring shanks for strength, frequently available in various colors to match the panels you're installing.
21. Furniture Nails: ( Types of Nails )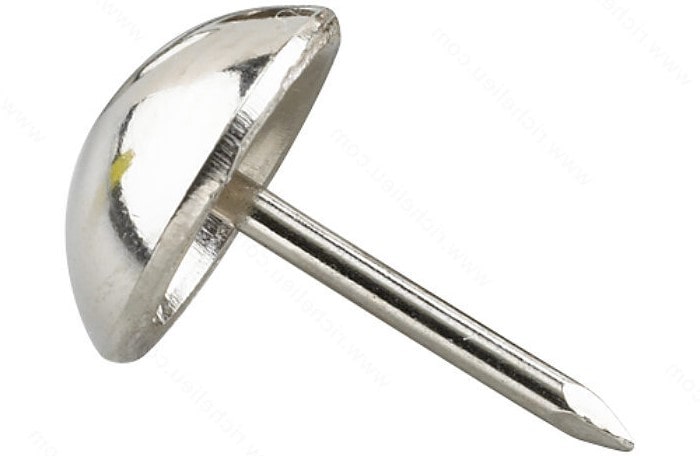 Furniture nails, also known as upholstery nails, are little nails with big, ornamental heads. Their main use is to hold upholstery fabric to a timber frame.