Woodworking Machine: Definition, Types, Uses, Working, Application, Advantages & Disadvantages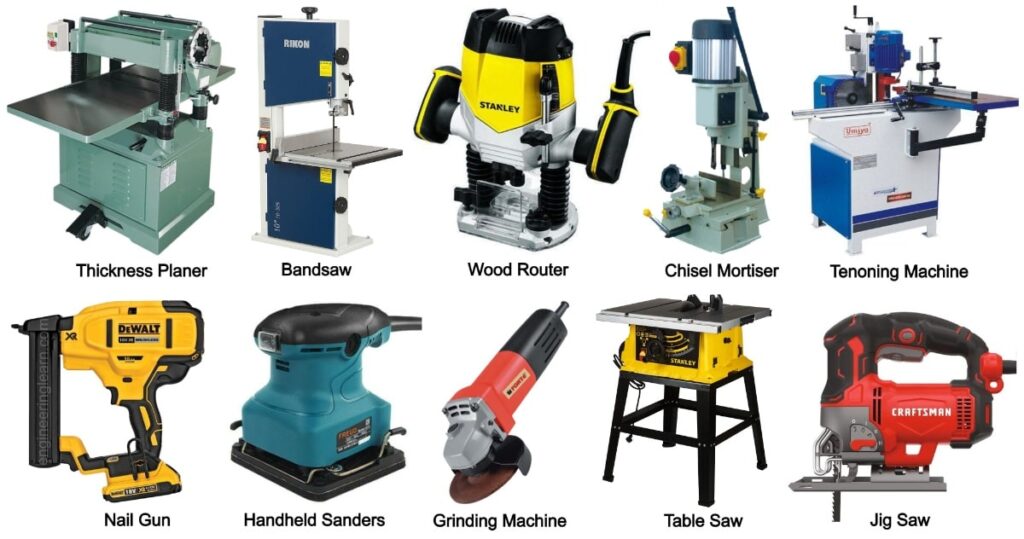 Definition of Woodworking Machine
Woodworking Machine: Definition, Types, Uses, Working, Application, Advantages & Disadvantages :- The Woodworking machine is a type of machine that is utilized to process wood to make different objects, artefacts, etc. These woodworking machines are generally powered by electric motors and are exclusively used in woodworking. Sometimes even the grinding machines, which are typically used for grinding objects down to smaller pieces are also considered to be a part of woodworking machinery.
History of Woodworking Machine
England was the place where the first few woodworking machines were manufactured, which happened during the later parts of the 18th century. After that, a countless number of improvements and additions were made to these woodworking machines in North America, and most of these newer, better machines were developed by people belonging to the furniture manufacturing industry. Later these machines were used to make carts and even weapons as well. As time passed by, many different kinds of machines came into being for manufacturing some instruments such as wheels, yokes, and axles.
Types of Woodworking Machines
At present, there are many types of woodworking machines available in the market. Woodworking is not only one of the most practiced professions all around the world but as a matter of fact, it also happens to be the hobby of a lot of people all around the world as well. Due to all the developments made in the area of woodworking machines, woodworkers all around the world are able to choose from a vast array of tools and machines in order to accomplish their work.
Most of these machines and tools work on almost the same principle. In most of the machines and tools used for woodworking, a blade is included which helps in removing pieces of timber. Sometimes they even include a spinning knife that can efficiently cut the timber into at least two pieces.
1. Surface/Thickness Planer
The wood surface planer or better-known as thickness planer is one of the popular wood workshop machines mainly used for finishing flat wooden surfaces to provide consistency in thickness and shape. For industrial processes, the surface/thickness planers come in a variety of surfacing or thickness capacities and hence can be selected from a number of options for a hassle-free performance which is better suited for specific wood working tasks and requirements in multiple industries. A surface/thickness planer machine is considered to be an ideal option for woodworking applications to make sure that the maximum standards of accuracy, speed, and efficiency of surface and thickness finishing is achieved with just one single machine.
2. Tenoning Machine
The wooden work-pieces in any wooden artifact or structure are usually joined by using mortise and tenon joints, where mortise is a hole drilled on a wooden piece and tenon is a projection designed to fit inside that hole with best-fit dimensions on another piece. The tenoning machine is typically used to craft out those tenons.
3. Chain/Chisel Mortiser
The Chain/chisel mortisers are one of the very important and versatile wood working machine tools which are used for drilling up holes into wooden surfaces. These mortisers are typically utilized in workshops for making square or rectangular slots in lumber pieces in order to get the desired mortise and tenon joints.
4. Jig Saw
Designing of wood for artistic patterns and designs is best accomplished on a jig-saw machine. The jig-saw machine is capable of cutting the most arbitrary and most irregular shapes out of wooden pieces. With proper use by the hands of a skilled craftsman, maximum precision and swiftness even in the most typical wood designing tasks can be easily achieved with the jigsaw machine at workshops and industries. The jigsaw machie gives the efficiency of accomplishing several tasks by reducing the wastage and helping in accomplishing the most accurate cutting, shaping and other wood processing applications in the minimum time possible.
5. Grinder/Grinding Machine
A number of different types of grinding tools are used in woodworking shops and wooden manufacturing industries for providing a better finishing to wooden surfaces. These grinding devices come in various specifications, sizes, and configurations and can be utilized for accomplishing various tasks like finishing of internal cylinders or bores, sharpening multiple cutting tools in workshops, getting rid of some rough projections from castings, cleaning, polishing, and buffing surfaces and so much more. The most commonly used grinding machines in such industries is the Bench/tabletop grinders, blade grinders, gear type grinding tools.
6. Nail Gun
A nail gun, or sometimes known as a nailer, gives us the capability to drive nails into wood and other materials. It accomplishes the work of a hammer, but in a fraction of the time and with greater accuracy and much less effort. The nail gun is available in a lot of variants, where it may either be spring-loaded, or it could be powered by compressed air, gas-powered by propane or butane, or even powered by magnetism. Some nail guns even use the force created by detonating a small explosive charge.
7. Handheld Sanders
A handheld sander enables us to provide a smooth finish to wooden surfaces with sandpaper but with much less effort and much faster speeds than doing it by hand. The handheld sanders consist of a disc, which is driven by an electric motor that rotates it at high speed. By connecting a disc of sandpaper, we can fasten any discs of sandpaper of different roughness in order to provide a smooth finish to a wooden surface. The variations in handheld sanders available in the market include the orbital sander, belt sander, and random orbit sander fixed machines.
8. Wood Lathe
The process of working of wood on a lathe is termed as "Wood Turning". The wood lathe is much like the regular lathe used for turning metal and it enables us to shape any wooden workpiece. The wooden lathe has a chuck that rotates at high speeds on a belt-driven central axis. The end that holds the workpiece is known as the headstock. An electric motor is utilized to drive the axis of this lathe. The center is responsible for holing the workpiece at the opposite side of the chuck, which is generally known as the tailstock. As the workpiece spins on the lathe, it can be shaped by holding a chisel against its spinning surface. Once the desired shape is achieved on the workpiece, a piece of sandpaper is usually ran over the still-spinning workpiece to give it a smooth surface finish.
9. Bandsaw
The history of this woodworking machine can be traced as far as to the early nineteenth century. As its name suggests, a bandsaw is a flexible saw-toothed blade that comes in the form of a band. This band fits over two or more rotating wheels which are driven by powerful electric motors. This saw-toothed blade passes vertically through a slot present in the workbench surface. The workpiece then slides against the fast-moving blade to get cut. Bandsaws are an integral and important part of any timber mill or woodworking shop. It is available in multiple variants, and even automated bandsaws are available nowadays, where the feed is automated rather than manually fed. This enables a single operator to operate multiple bandsaws simultaneously.
10. Table Saw
The table saw also goes by the names bench saw or saw bench. In a table saw, an electric motor is used to drive a circular saw. A portion of this circular blade is projected through a opening in the surface of a tabletop. The workpiece then slides along a guide on the tabletop over the saw to get the desired shape. The height of the circular bade can be adjusted according to our needs. The table saw is a handy machine for rough sizing of wooden planks and beams.
11. Router
This handheld power tool provides us the capability to be hollow out sections in any wood workpiece and any other materials. The router to some extent looks a lot like the handheld sander since it also has a circular blade like a sander. The router is considered to be one of the most versatile tools in the field of woodworking by many woodworking professionals.