Types of Retaining Rings: Definition, Uses, Advantages & Disadvantages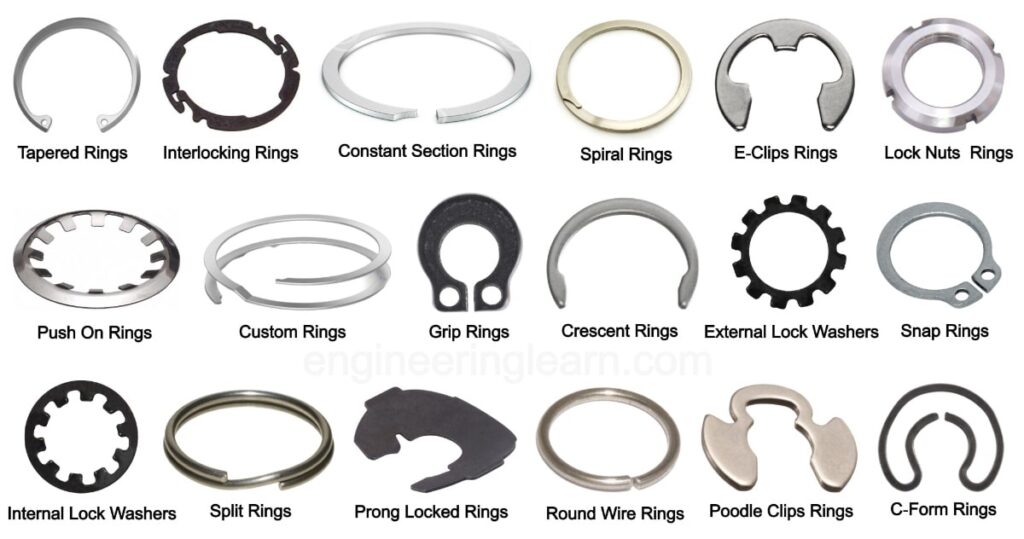 What are Retaining Rings?
Types of Retaining Rings: Definition, Uses, Advantages & Disadvantages :- Retaining rings, which are widely also regarded as circlips or snap rings are fasteners made out of metal which are installed into a groove which is present on a shaft, or in a bore or housing to retain an assembly. The devices hold the parts in their place using a lightweight, compact design which does not require a huge amount of machining operations compared to the other fastening techniques. ( Types of Fasteners )
Engineers usually differentiate the retaining rings based on their applications:
Installation and removal requirements
Expected force load(s) on the ring
Conditions and operating environment
Cost
Rotational speed
The size of retaining rings can vary from 1mm to 1m in diameter. A variety of combinations of shape, style, size and material may even result in designs that perform efficiently in a variety of applications and industries. Taking example of a standard automobile, for example, can have as many as 50 retaining rings in systems which consists of steering, safety equipment, powertrain, etc.
Retaining rings also find their use in several other things, such as wind turbines, fitness equipment, bearing retention, doorknobs, bicycles, gas pumps, in office furniture, and many others.
The main reason behind the usage of a retaining ring is to give a base or simply give a shoulder to stop the assemblies or sub-components coming off a housing bore or a shaft.
Types of Retaining Rings
Retaining rings exist in many forms which include;
Spiral Retaining Rings
Push-On Retail Rings
Tapered Retaining Rings
Constant Section Retaining Rings
Custom Retaining Rings
1. Spiral Retaining Rings
Spiral retaining rings can be of two types: either single-turn or multi-turn, depending upon the needs and situation. Spiral-wound, Multi-turn retaining rings most commonly comprise of two or more curvatures of wire material with rounded edges which is in-house rolled flat. The edge of the material is coiled to give a gapless ring with an angle of retention of as much as 360º. Since there are no assembly lugs which are present in tapered retaining rings, spiral rings offer space savings in a radial direction.
2. Push On Retaining Rings
Push-On Rings are usually described as a retaining ring which is self-locking that tries to apply force (frictional) against a housing or a shaft so as to hold any equipment or component (mechanical) tightly in its place. Usually, to be found in those self-locking designs which are both external and internal, Push-On Rings do not show any sort of requirement whatsoever of grooves or additional machining so as to be secured in its place rightly.
They are excellent for securing parts which involve lighter duty applications and are not subject to substantial heavy thrust loads. They fit on the outside of your application or shaft. The prongs or teeth each "push" against the external portion of the shaft to stay in its position. In other words, they produce mutual force on each other so as to maintain their respective position. Not only do these Push-On Retaining Rings possess no requirement of groove in the shaft, they are also the absolute perfect choice for jobs involving lower forces.
3. Tapered Retaining Rings
A) Axial Assembled
It is generally fitted along the Centre-point of an axis (horizontally). These rings have a "tapered-section." When you apply pressure to compress the lugs so as to fit the ring in a housing (or expand them in order to install it over a shaft), the height of the ring tends to get on a descending side symmetrically from the top to the ends which are free. This construction is the reason for the rings to impose a circular shape when it is proceeded inside the groove, which then allows the ring to have a stronger grip on the bottom of the groove along the entire edge of the ring. This feature provides the system with much needed high thrust load capacity.
B) Radial Assembled
These rings are installed along the circle (vertically). These retaining rings with external shafts are designed for conditions which are characterized by thrust loadings which are low. They do not have lug holes or lugs, and do not extend as further around the groove's circumference as their axial counterparts, thus they tend to absorb less force. But for most of its applications they are pretty much cost effective.
C) Self-Locking
It is installed along the Centre-point of an axis (vertically)
Come in various sizes including small sizes for applications with thrust loadings which are very low.
They do not compulsorily require a groove for their installation.
Most of them cannot be easily removed once they are installed.
4. Constant Section Retaining Rings
As the name suggests, Constant section retaining rings consists of a constant, uniform section. This simply means that the material taken in use for the construction of the ring is of the same width throughout any point considered on the ring circumference. They usually cost less than spiral retaining rings and tapered retaining rings and are only known to have three-point contact with the groove.
Advantages of constant section containing rings
Edges consisting of radius, no stamping burrs
No assembly/disassembly lugs = space saving in radial direction
No special tooling is required in this case for exotic materials
Square edge wire for sharp-edged installations
Higher ring shear
No special tooling for installing and removal necessary
Contains heavy duty sections for higher rotational capacities
Customized special ends for specific applications
5. Custom Retaining Rings
Retaining rings can also be customized as per the requirements of the application. Usually, rings produced from coiling are comparatively easier to customize. Often not much of a complex setup is required (with no tooling) to produce any specific ring. If the application requires a specific configuration or end type, this is easier to produce from a coiled ring rather than with the help of a stamped ring. Custom rings can be manufactured in sizes which range from 0.157 in. (or 4 mm) to 120 in. or 3,000 mm in diameter. A custom stamped ring would ask for an additional die and setup.
Advantages of Retaining Rings
It reduces and avoids complex machining such as under cuts and threads
Comparatively cheaper than other fastening methods
Compact in design
Uses less amount of raw material for any given size
It requires no special training for assembly
Can be assembled very fast
Easier to install
Considerably Light weight
Unlike other alternatives which are threaded, it significantly reduces the production cost
Disadvantages of Retaining Rings
It can only be taken in use once
To cater for tolerance-build up, there will be a small play in axial direction
The weight and size of finished design is significantly reduced
Less housing/shaft preparation (threading, tapping, drilling, etc.)
Lower costs of labour and raw material.