Diaphragm Valve: Types, Parts, Uses, Working, Application, Material, Advantages & Disadvantages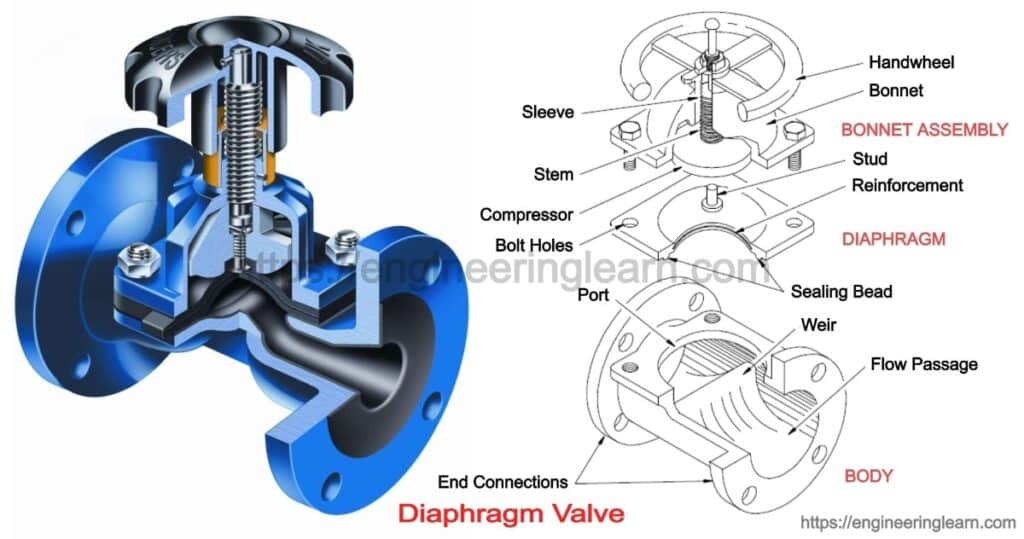 What is a Diaphragm Valves?
Diaphragm Valve: Types, Parts, Uses, Working, Application, Material, Advantages & Disadvantages :- Diaphragm valves are also known as membrane valves and they have a valve body in which there are two or more ports, a saddle or weir or seat upon which diaphragm close the valve, and an elastomeric diaphragm. It is somewhere related to the pinch valves, but it uses a elastomeric diaphragm in place of elastomeric liner in the body of valve for separating flow stream from closure element.
Metal, plastic or other material on the basis of use are used for the construction of the valve body. It is a pressure responsive, flexible element which transmit force to close or open or to control a valve.
Uses of Diaphragm Valve
Diaphragm valves are ideal for corrosive applications where diaphragm materials and the body are selected for chemical compatibility like acid, bases etc.
They are also best suited for abrasive applications. For abrasive applications the body lining of the valve are designed to resist abrasion and diaphragm can be replaced easily when worn out.
Liquids in which solids are entrained, diaphragm can seal around entrained solids and they provide positive seal.
Slurries, diaphragm provides seal around entrained solids.
Applications of Diaphragm Valve
Wastewater and water
Paper and pulp
Power
Cement
Chemical
Minerals and mining
Bioprocessing and Pharmaceutical
Method by which Diaphragm valves control the flow of fluid
A flexible diaphragm which is connected to the compressor with the help of stud which is molded in the diaphragm is used by the diaphragm valves. Diaphragm is pushed in contact with valve body's bottom for providing shut off instead of pinching linear closed for providing shut off. For flow control with precise and variable opening to control pressure drop from valve, the manual diaphragm valves are ideal.
The handwheel in the valve is turned until the required amount of fluid is flowing through the system. For stop and start application, handwheel is turned till the compressor either lifts off the bottom till fluid flow is enable to pass through or push diaphragm against the bottom of valve to stop the fluid flow.
Working of Diaphragm Valve
Diaphragm which is connected to the compressor with the help of stud which is molded in the diaphragm, for starting or increasing the flow then compressor is being moved up with the help of valve stem. For slowing or stopping the flow the compressor is being lowered and diaphragm is then pressed against bottom of valve. The Diaphragm valves are very good for controlling the fluid flow which is containing suspended solids in it and they provide flexibility to be installed at any position.
Diaphragm valves of weir types are much better at throttling in comparison to the straight though diaphragm valves because quick opening valve characteristic is provided by the design's large shut off area which is along the seat. The diaphragm in the valve act as a gasket which works to seal leaks in between the bonnet cap and the body.
Types of Diaphragm Valve
Diaphragm valves are mainly of two types. Except diaphragm and body the basic construction of both types of valves are similar.
1. Weir Type Diaphragm Valve
This type of valve design is very popular among diaphragm valve and is best suited for the general use or for abrasive and corrosive services and are ideal for controlling small flows. The body of this type of valve has a raised lip with which the diaphragm comes in contact with. They use small diaphragm because the material do not have to stretch. Heavier material for valve can be used for the services of vacuum and high pressure.
Two piece compressor component designs is composed for this type of weir. Their body has bonnet assemblies which are recommended for handling dangerous gas or liquid because if diaphragm fails, hazardous material will not be able to release in the surrounding system. For food processing applications they are recommended because their body is self draining.
2. Straight Through Type Diaphragm Valve
This type of diaphragm valves is used for the places where the direction of flow changes within the system. The design of body have a flat bottom which is parallel to the flow stream, which allow the flow of fluid to move uninhibited from the valve without any major obstructions. For diaphragm flexible material is required so the mechanism can reach to the bottom of the body of valve, it can leads to the shorten the life span of diaphragm. They are best suited for slurries, sludge and other different fluids but are not good for high temperature fluids.
Parts of Diaphragm Valve
1. Stem
The stem of the valve can be indicating or non indicating. If it is non indicating then the hand wheel rotate stem bushing for engaging the stem thread which leads to the movement of stem and attached compressor up and down and the diaphragm is attached with the compressor. Sealed bonnets are used with seal bushing in non indicating bodies.
If stem is indicating then the design is same as the design of non indicating stem but have longer stem and it is extended up through hand wheel. Sealed bonnet with seal bushing and O – ring is used by the indicating bodies.
2. Bonnet
It is the cover of top of the valve which contain non wetted portion of valves like the hand wheel mechanism and the compressor. It is bolted to the body of valve. Bonnets of the diaphragm valve are quick opening in nature and are lever operated. They are interchangeable with standard bonnet on the conventional weir type of bodies. By using bonnet constructed up to 10cm in size diaphragm valves are used in vacuum services. For larger valves, evacuated and sealed bonnet should be used.
3. Compressor
It is used for operating the diaphragm in the valve and the compressor is located below the hand wheel stem and above the diaphragm. It is rounded in shape and has shape much like the flow passage of the body.
4. Actuator
The valve actuator is used to operate the disc for opening and closing the valve and operate the stem. There are different types of actuator which is used on the basis of need of the system like necessary torque required for the operation of valve, speed and automatic actuation need. Varieties of actuator can provide features like positioners for precise flow control, electric relay of valve position and adjustable opening.
Material of Construction of Diaphragm Valves
1. Body Material
Brass
Wood
Steel: Ductile iron, Cast iron, Stainless steel, Carbon steel and Alloy 20
Plastic: Acrylonitrile butadiene styrene, Polyvinyl chloride, Polypropylene, Polyethylene, Polyvinylidene fluoride.
2. Diaphragm Material
Fluorine Plastic Type: FEP with EPDM backing, PTFE with EPDM backing, PFA EPDM backing.
Rubber lined or Unlined type: Natural Rubber, Silicone rubber, Leather, Viton, Nitrile or Buna – N.
Advantages of Diaphragm Valve
They have leak proof seal.
Easy in maintenance.
Repair in this types of valve are made without the interruption in pipe line.
They have tight shut off.
It reduces the leakage to the environment.
Disadvantages of Diaphragm Valve
It can be used for only moderate pressure of approximately 300 psi.
It can be used for moderate temperatures of around -60 to 450 F.
They cannot be used for multi turn operations.
Their body should be of corrosion resistant material.
Diaphragm valves are linear motion valves which are used for stop or start and control flow of fluid.
Image Source :- nzsafetyblackwoods, forumautomation