18 Types of Bridges – Components, Benefits & Limitations [Explained with Pictures]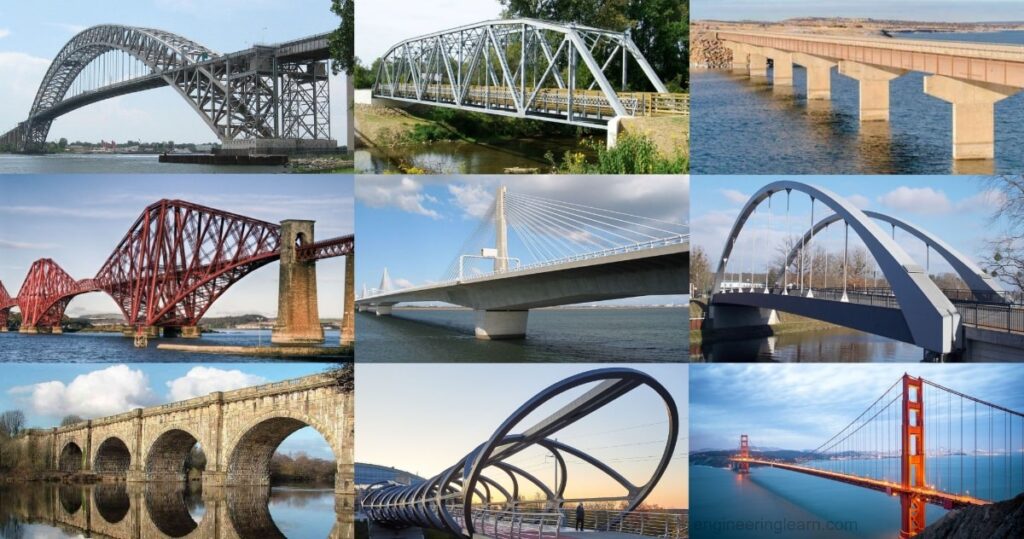 Introduction
Types of Bridges – Components, Benefits & Limitations [Explained with Pictures]: – The bridge is a rigid structure that is based on an obstacle for providing the passage over a hindrance or obstruction. The required passage might be for rail lines, roads, waterways, pipelines, and so on. There are various types of bridges each fills a particular purpose and is selected under different circumstances.
Over the last a few thousand years, bridges have served perhaps one of the most important roles in the development and improvement of our earliest civic establishments, spreading of knowledge, local and overall exchange, and the ascent of transportation.
Components of Bridge
The bridge structure comprises of the following parts:-
A) Superstructure (Decking)
The Superstructure comprises of slab or girder or truss, etc. Super-structure bears the load disregarding the entry and transmits the forces made by similar sub-structures.
B) Substructure
Substructure includes piers, abutments, and wing walls which are provided to transmit a load of the superstructure to the earth.
C) Bearings
Substructures need more bearing strength to take the superstructure load straightforwardly on them. To help or support these loads, bearings are equipped. Bearings help to convey the load from the deck and disperse it uniformly over the substructure material.
Different Types of Bridges
1. Arch Bridges: ( Types of Bridges )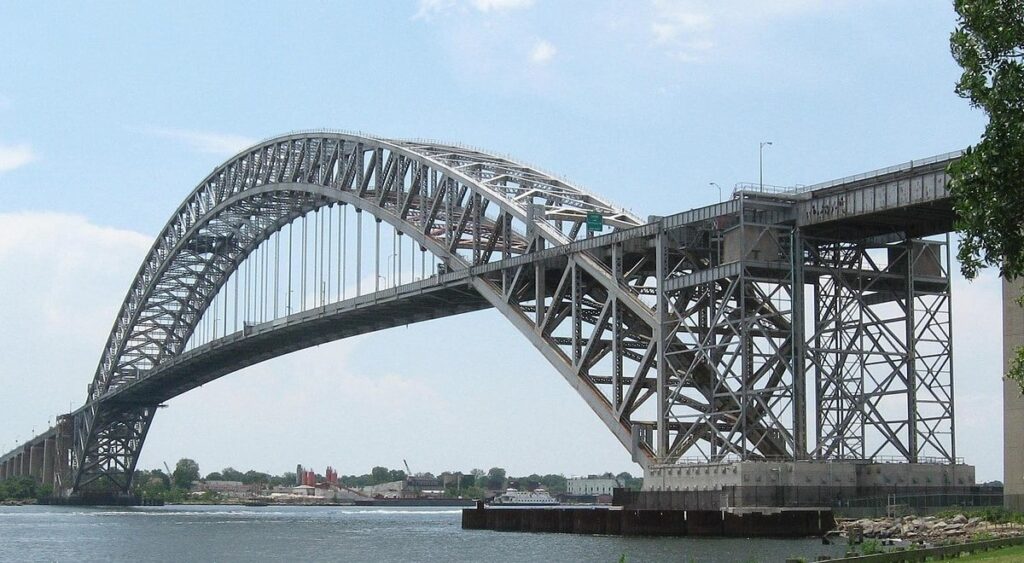 Arch bridges utilize arch as a main structural component (arch is constantly located beneath the bridge, never above it). With the assistance of mid-span piers, they can be made with at least one arch, contingent upon what type of load and stress forces they should endure. The core component of the bridge is its abutments and points of support, which have to be built strong because they will convey the weight of the entire bridge structure and the forces they convey.
Arch bridges can only be fixed; however, they can support any decking fiction, including transport of people on foot, light or heavy rail, vehicles, and, even, be utilized as water-carrying aqueducts. The most well-known materials for the construction of arch bridges are masonry stone, concrete, wood, created iron, cast iron, and structural steel.
2. Truss Bridges: ( Types of Bridges )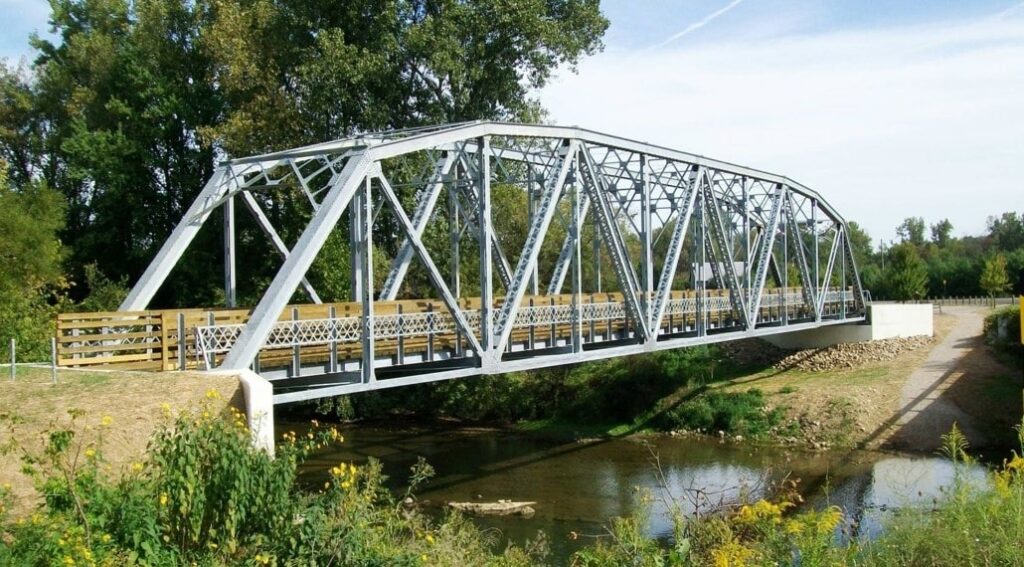 Truss bridges are an extremely popular bridge design that utilizes a diagonal mess of most frequently triangle-shaped posts over the bridge to disseminate forces across practically the entire bridge structure. Individual elements or components of this structure (typically straight beams) can get through dynamic forces of tension and compression, yet by distributing those loads across the whole structure, the entire bridge can deal with a lot stronger forces and heavier loads than different types of bridges.
3. Beam Bridges: ( Types of Bridges )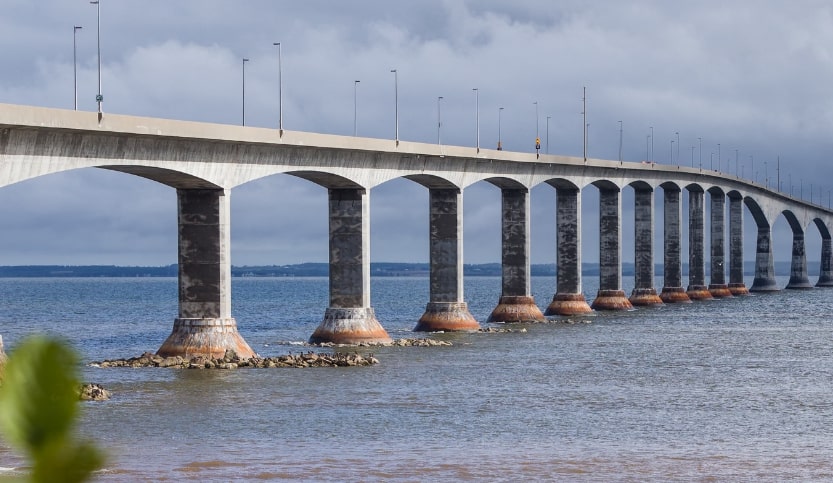 Beam bridges utilize the simplest of forms – one or several horizontal beams that can either simply traverse the area between abutments or free some of the pressure on structural piers. The core force that affects beam bridges is the change of vertical force into shear and flexural load (projections or mid-span docks).
Due to their simplicity, they were the oldest bridges known to man. At first, built by simply dropping wooden logs over short rivers or trenches, this type of bridge started utilized broadly with the arrival of metal works, steel boxes, and pre-stressed construction concrete. Beam bridges today are separated into girder bridges, box girder bridges, and simple beam bridges.
4. Tied Arch Bridges: ( Types of Bridges )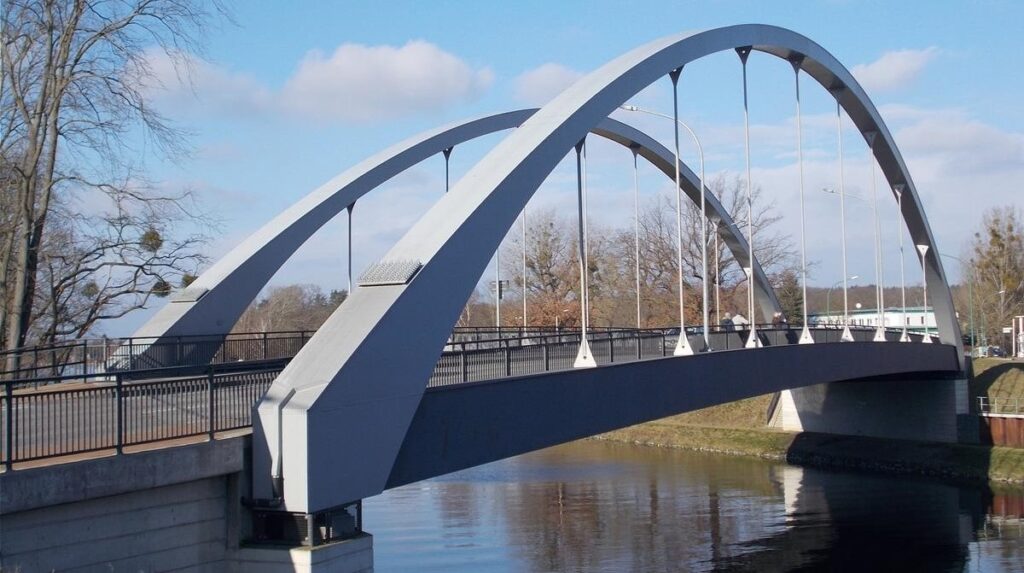 Tied arch bridges are similar in design to arc bridges, yet they transfer the weight of the bridge and traffic load to the top chord that is associated with the base cords in the bridge foundation. The bottom tying cord can be reinforced by decking itself or a different deck-independent structure that interfaces with tie-rods.
They are most of the time are called bowstring arches or bowstring bridges and can be made in several variations, including shouldered tied-arch, multi-span discrete tied-arches, multi-span continuous tied-arches, single tied-arc per span, and others. In any case, there is a precise differentiation between tied arch bridges and bowstring arch bridges – the last option utilizes diagonally shaped members who make a design that transfers forces similar to truss bridges.
5. Cantilever Bridges: ( Types of Bridges )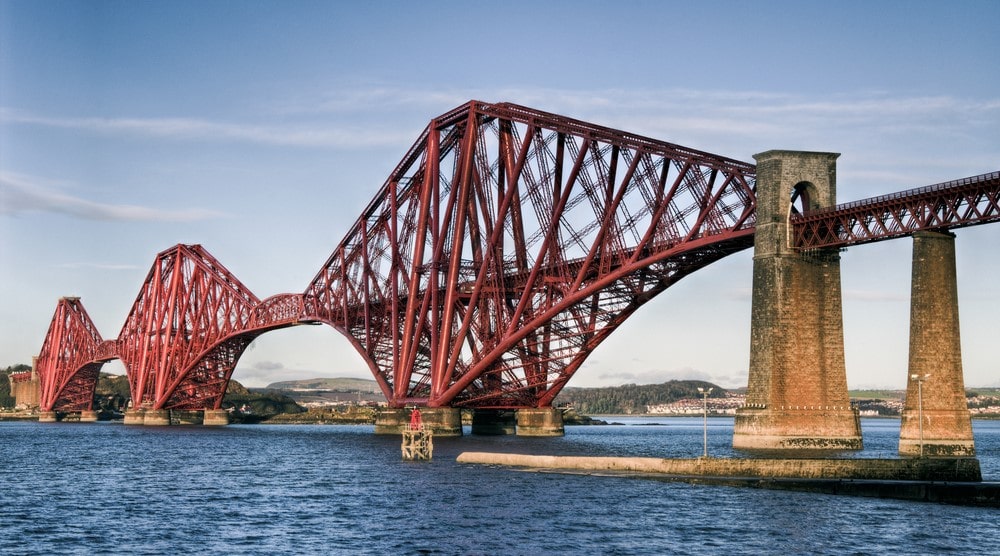 Cantilever bridges are to some degree comparable in appearance to arc bridges, yet they support their load, not through vertical bracing but through diagonal bracing with horizontal beams that are being supported just toward one side.
By far most cantilever bridges utilize one set of the continuous spans that are set between two piers, with beams meeting on the middle over the impediment that bridge spans (waterway, lopsided landscape, or others). Cantilever bridges can likewise utilize mid-bridge pears are their foundation from which they span in both directions toward different piers and projections.
The size and a weight capacity of the cantilever bridge influence the quantity of sections it utilizes. simple pedestrian crossings over extremely small distances can utilize a simple cantilever beam; however, larger distances can utilize either two beams emerging from both abutments or multiple center piers. Cantilever bridges can't traverse extremely large distances. They can be bare or use truss formation both underneath or above the bridge, and the most well-known constriction material are structural steel, iron, and prestressed concrete.
6. Cable-Stayed Bridges: ( Types of Bridges )
Cable-stayed bridges use deck cables that are directly associated with at least one vertical segment (called towers or arches) that can be raised close to projections or in the range of the bridge structure. Cables are generally associated with segments in two ways – harp design (each cable is appended to the different point behind the section, making the harp-like "strings" and "fan" designs (all links associated with one point at the highest point of the segment). This is an altogether different kind of link-driven suspension than in suspension bridges, where decking is held with vertical suspenders that go up to the principal support cable.
7. Suspension Bridges: ( Types of Bridges )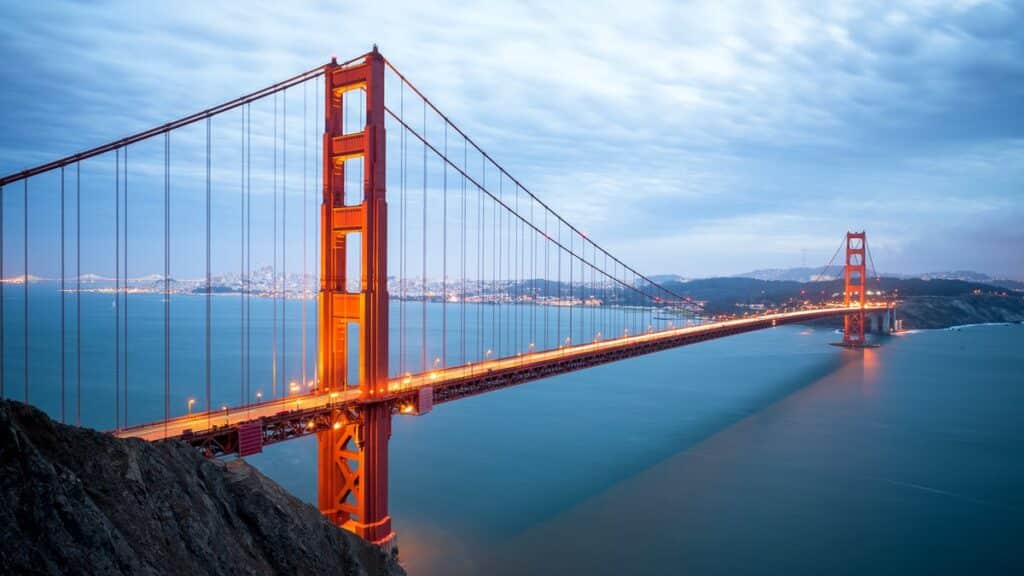 Suspension bridges use spreading ropes or cables from the vertical suspenders to hold the weight of the bridge deck and traffic. Ready to suspend decking over large spans, this kind of bridge is today exceptionally famous all around the world.
Initially made even in ancient times with materials like ropes or vines, with decking of wood planks or bamboo, the cutting edge variations utilize a wide exhibit of materials, for example, steel wire that is either braided into rope or manufactured or cast into chain links. Since just abutments and piers (at least one) are fixed to the ground, most of the bridge structure can be entirely adaptable and can frequently decisively answer the powers of wind, tremor or even vibration of by walking or vehicle traffic.
8. Fixed or Moveable Bridge: ( Types of Bridges )
By far most all bridges all around the world are fixed in place, without any moving parts that force them to stay in place until they are obliterated or fall because of unforeseen stress or dilapidation. In any case, a few spaces are needing multi-purpose bridges which can either have movable parts or can be totally moved starting from one location and then onto the next. Despite the fact that these bridges are rare, they serve a significant function that makes them exceptionally alluring.
9. Temporary Bridges: ( Types of Bridges )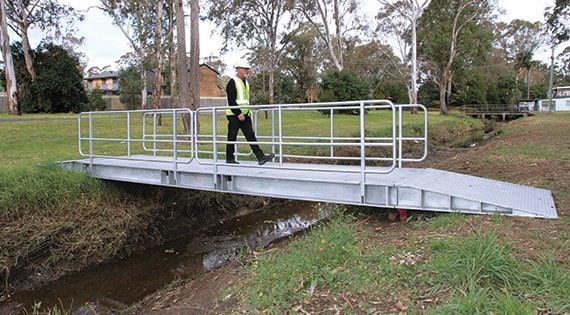 Temporary bridges are made using essential modular components that can be moved by medium or light machinery. They are generally utilized in military engineering or in circumstances when fixed bridges are repaired and can be so modular to such an extent that they can be reinforced to span larger distances or even built up to help elevate loads. By far most temporary bridges are not intended to be utilized for prolonged time frames in single locations, albeit sometimes they might turn into a long-lasting piece of the road network because of different factors.
10. Fixed Bridges: ( Types of Bridges )
The majority of bridges constructed from one side of the world to the other and over our history are fixed, with no moveable parts to give higher clearance for waterway/ocean transport that is streaming beneath them. They are designed to remain where they are made to the time they are considered unusable due to their age, dilapidation, or are demolished.
Utilization of specific materials or certain construction techniques can quickly compel bridges to be everlastingly fixed. This is generally clear with bridges made from construction workmanship, suspension, and cable-stayed bridges where a huge part of the decking surface is suspended in the air by the complicated network of cables and other material.
11. Movable Bridges: ( Types of Bridges )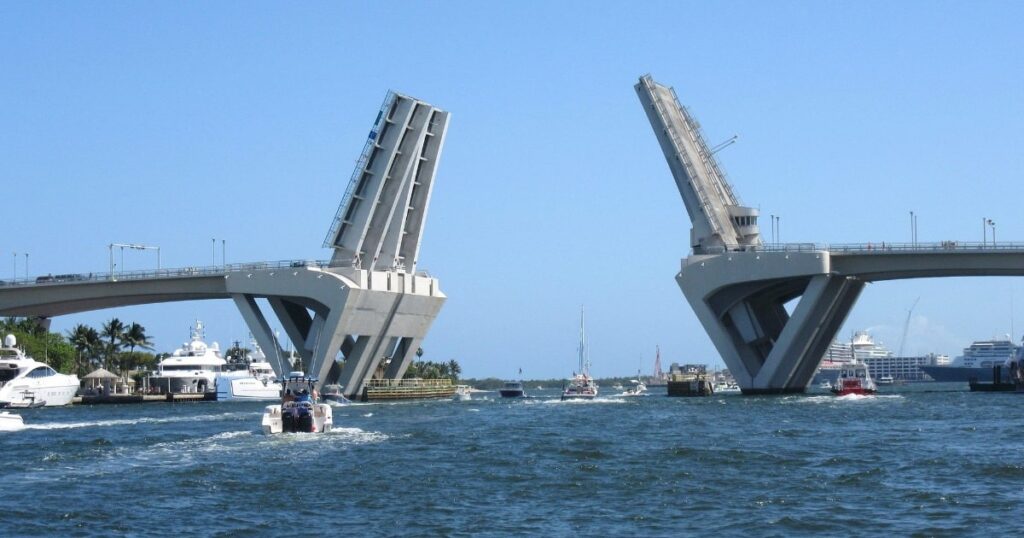 Moveable bridges are a compromise between the strength, carrying capacity, and durability of fixed bridges, and the flexibility and modularity of temporary bridges. Their core functionality is giving safe entry of different types of loads (from traveler to weighty cargo), yet with the ability to move out of the way of the boats or different sorts of under-deck traffic which would somehow or another not be fit for fitting under the primary body of the bridge.
12. Pedestrian Bridges: ( Types of Bridges )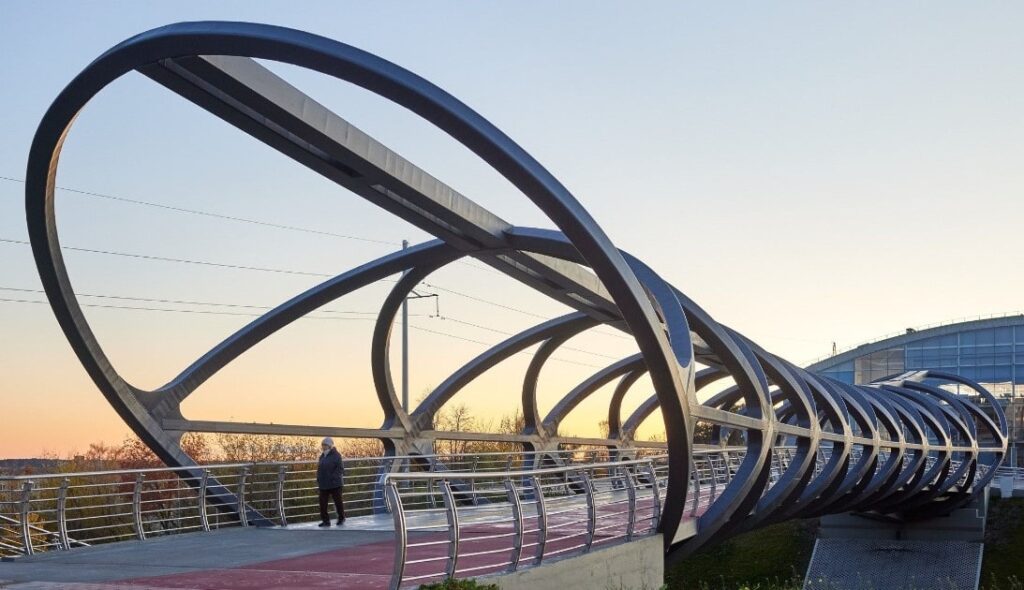 The oldest bridges ever made were designed to facilitate traveler travel over small bodies or disagreeable landscapes. Today, they are typically made in metropolitan conditions or in terrain where vehicle transport is distant (like harsh sloping landscapes, timber lands, swamps, and so on.).
Since on-the- foot or bike traveler traffic doesn't strain the bridges with much weight, designs of those bridges can be made to be more luxurious, rich, smooth, and better integrated with the urban environment or made with less expensive.
Numerous modern pedestrian-only bridges are made from modern material, while some tourist pedestrian bridges feature a more exoteric designs that even include transparent polymers in decking, empowering clients unrestricted view of the area underneath the bridge.
13. Double-decked Bridges: ( Types of Bridges )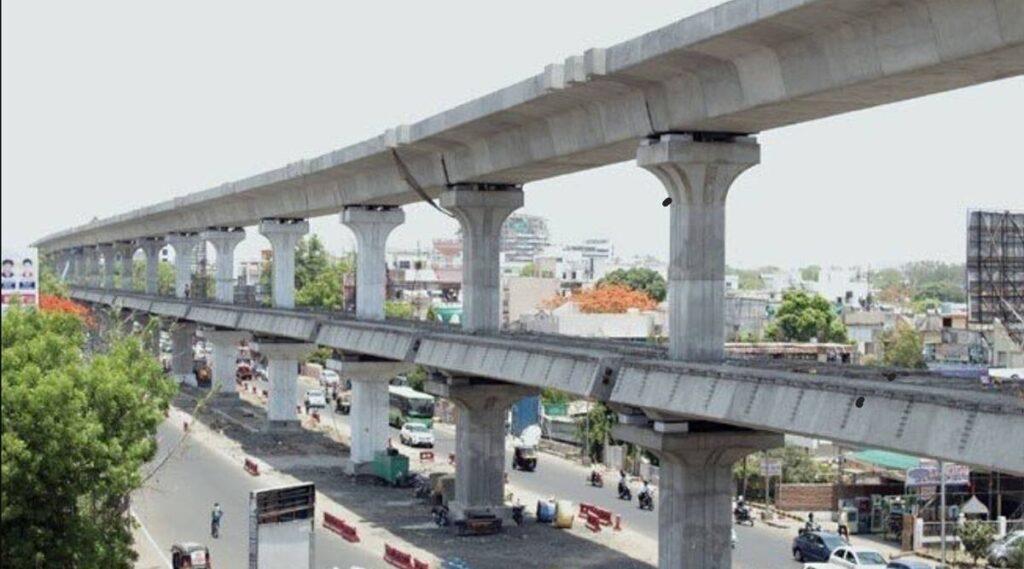 Multi-purpose bridges provide an improved progression of traffic across bodies or harsh landscapes. Most frequently they have a larger number of vehicle lanes, and now and again have a dedicated areas for train tracks. For instance, notwithstanding various vehicle paths on the main decking.
14. Train Bridges: ( Types of Bridges )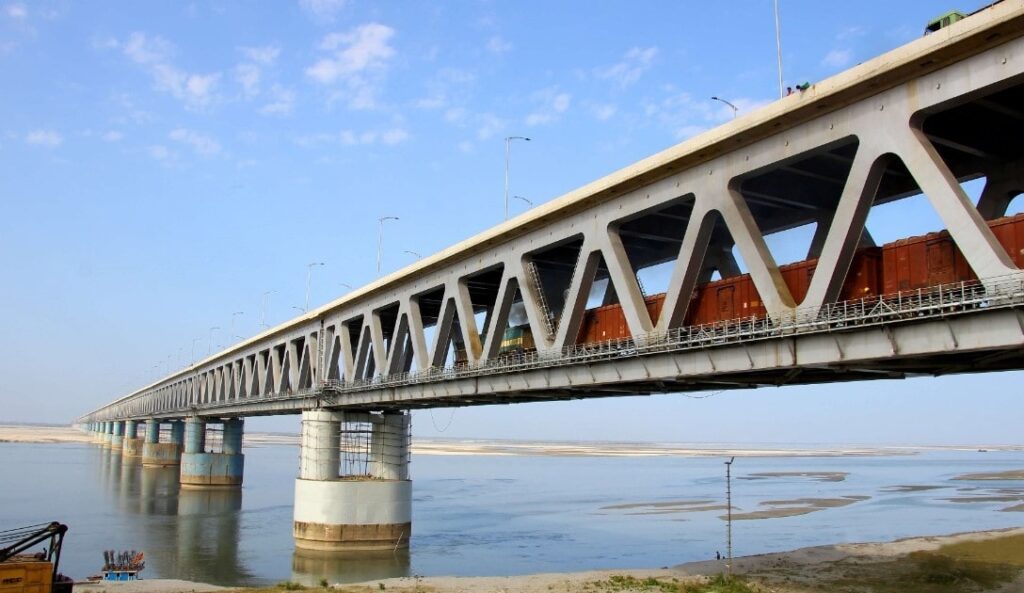 Train bridges are bridges made explicitly to convey one or multiple lanes of train tracks, albeit in some cases train tracks can likewise be set adjacent to various deck types, or on various decking elevations. After car bridges, train bridges are the second-most-common type of bridge.
15. Pipeline Bridges: ( Types of Bridges )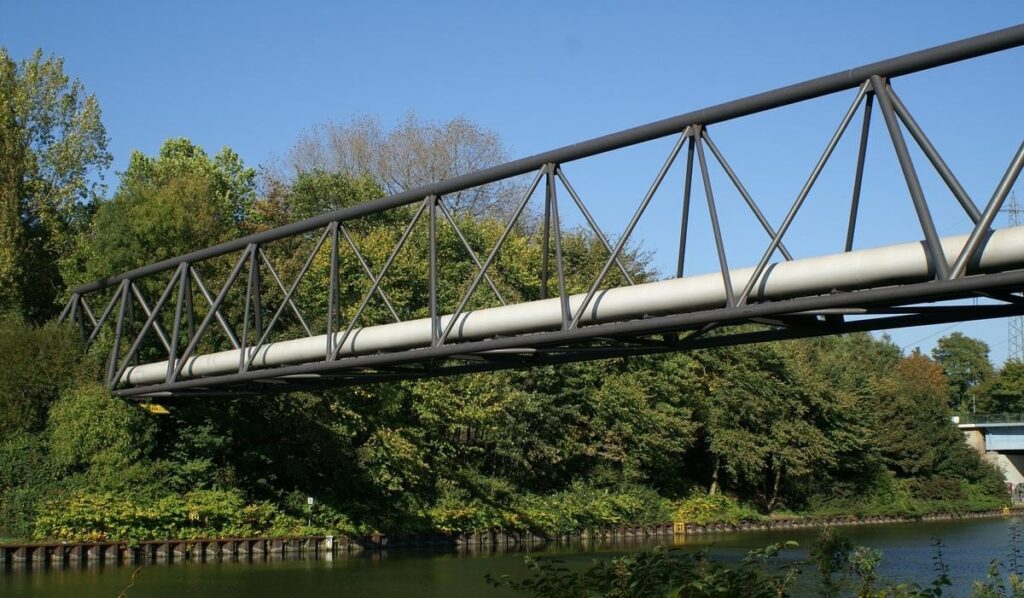 Pipeline Bridges are less common as a standalone bridge type, pipeline bridges are built to carry pipelines across water or difficult terrains. Pipelines can convey water, air, gas, and communication cables. In present-day times, pipeline networks are typically consolidated in the structure of existing or newly built bridges that likewise house regular decking that works with passersby, vehicles, or railroad transport.
Pipeline bridges are typically exceptionally lightweight and can be supported just with the basic suspension bridge construction designs.
16. Commercial Bridges: ( Types of Bridges )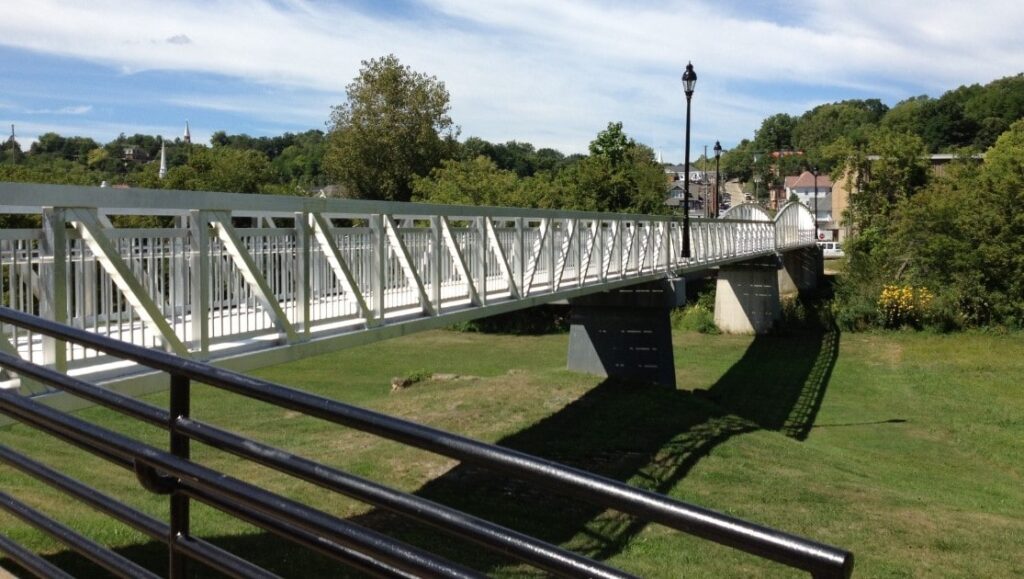 Commercial bridges are bridges that have commercial buildings like restaurants and shops. Most commonly utilized in medieval bridges established in urban environments where they took advantage of the steady progression of pedestrian traffic, today these kinds of bridges are seldom constructed with a prominent amount of them being found in many countries.
Medieval bridges are significantly more commonly known for their commercial applications.
17. Aqueduct Bridge: ( Types of Bridges )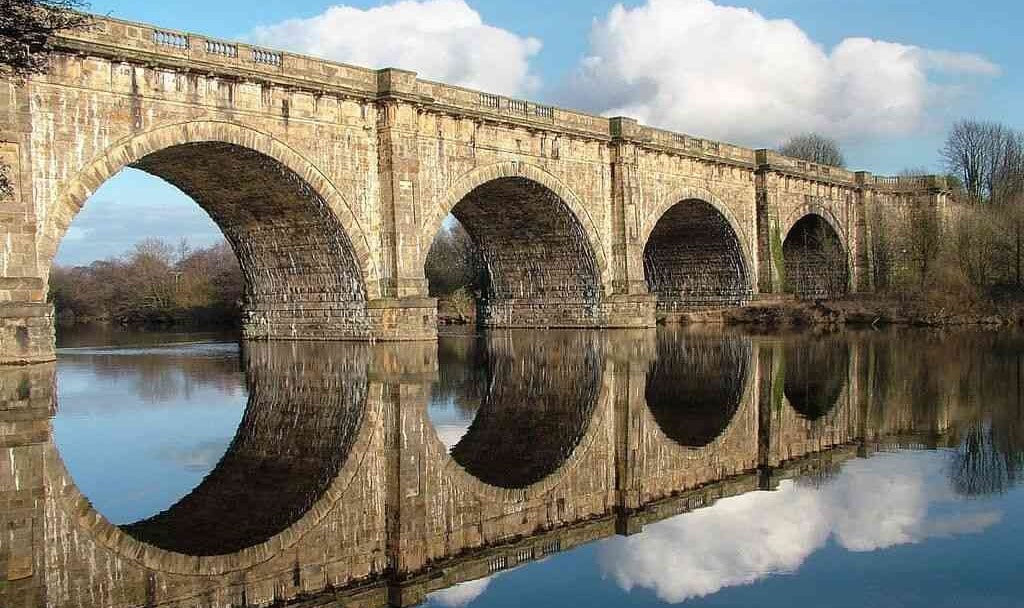 Aqueducts are ancient bridge-like structures that are an essential part of the larger viaduct networks intended to convey water from water-rich regions to sometimes in a while extremely far-off dry urban communities.
As a result of the need to maintain a low but consistent drop of elevation of the main water-conveying path, aqueducts are exactly created structures that occasionally need to arrive at exceptionally high elevations and keep up with rigid structure while spanning large distances. The largest aqueducts are made of stone and can have different levels of arched bridges created one on top of one another.
18. Traffic Bridge: ( Types of Bridges )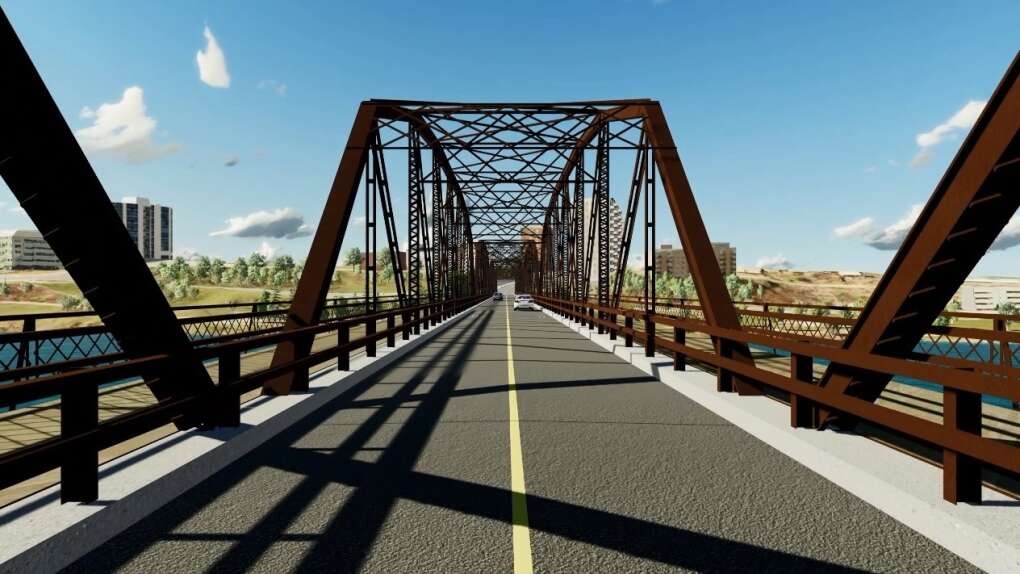 This is the most widely recognized utilization of the bridge, with at least two lanes designed to carry vehicle and truck traffic of different forces. Present- day large bridges generally highlight numerous lanes that work with movement in a single lane and keeping in mind that most bridges have a solitary decking dedicated to vehicle traffic, some could have an extra deck, empowering each deck to be focused on providing travel in a solitary direction.
What are Some Benefits and Limitations of Bridges?
While all bridges need to handle that large number of forces consistently, different types of bridges will dedicate a greater amount of their capacity to all the more likely to handle a specific type of forces. The handling of those forces can be centralized in a couple of outstanding structure members, (for example, with cable or cable-stayed bridge where forces are distributed in a particular shape or situation) or be distributed by means of bracket across the practically whole structure of the bridge. Designs of bridges vary contingent upon the function of the bridge, the nature of the landscape where the bridge is constructed and anchored, the material used to make it, and the assets accessible to build it.
Conclusion
While all bridges need to handle all those forces consistently, different types of bridges will dedicate a greater amount of their capacity to all the more likely to handle the explicit types of forces. The handling of those forces can be brought together in a couple of noticeable structure members, (for instance, with cable or cable-stayed bridge where forces are distributed in a particular shape or situation) or be dispersed by means of truss across the practically whole structure of the bridge.