Rolling Mills – Types, Function, Material, Applications, Advantages & Disadvantages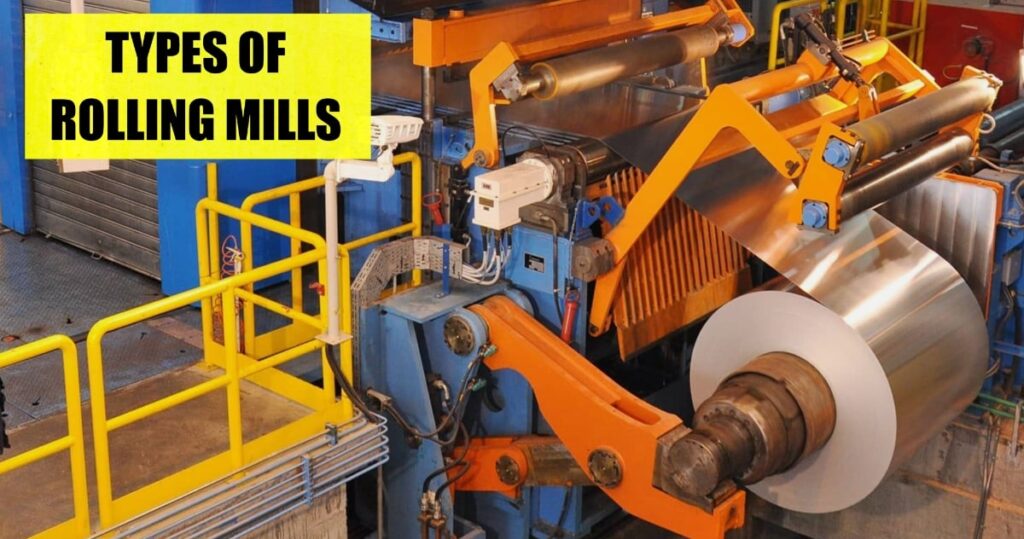 What is a Rolling Mill?
Rolling Mills – Types, Function, Material, Applications, Advantages & Disadvantages: – Rolling is a metal forming process in which metal stock is passed through one or more pairs of rolls to reduce uniform thickness. The idea is similar to rolling out dough. The temperature of the metal rolled determines the classification of rolling. Hot rolling occurs when the temperature of the metal exceeds its recrystallization temperature. Cold rolling occurs when the temperature of the metal is lower than its recrystallization temperature.
Hot rolling processes have the most cargo of any manufacturing process, and cold rolling processes have the most cargo of any cold working process. Roll stands, which hold pairs of rolls, are grouped to form rolling mills, which can quickly process metal, typically steel, into products like structural steel (I-beams, angle stock, channel stock, and so on), bar stock, and rails. The rolling mill divisions of most steel mills convert semi-finished casting products into finished products.
Ring rolling, roll bending, roll forming, profile rolling, and controlled rolling are all examples of rolling processes.
History
Interestingly, Leonardo da Vinci's drawings may be attributed to the invention of the rolling mill in Europe. As early as 600 BCE, crude rolling mills with the same basic principles were discovered in the Middle East and South Asia. The first rolling mills were slitting mills, which were introduced to England from what is now Belgium in 1590. Flat bars were passed between rolls to form an iron plate, then passed between grooved rolls (slitters) to produce iron rods.
Perhaps your company is expanding, and a rolling mill of this type is the ideal solution for you. Whether it is steel guard rails or automobile parts, new or aftermarket, incorporating a rolling mill into your operation will set you apart from other supply houses. Managing the entire process from start to finish will position you as a leader in your field.
How do Rolling Mills Function?
Rolling mills always use a minimum of two rollers, regardless of the number of rollers used. A set of rotating rollers grips the material and propels it forward as it moves through the process. After that, the material is forced to pass through an opening thinner than its initial thickness. Because the rolls themselves cause the material to become thinner, the result is a finished thickness that is lower than the thickness at the beginning of the process. The rolls perform a function comparable to that of a draw die or a swager die in that they reduce the area of the material without causing any loss of either the material itself or scrap.
On the other hand, the roll gap can be adjusted, enabling the operator to carry out a variety of thickness reductions using a unique collection of tooling. As a consequence of this, a rolling mill is the piece of machinery that is utilized most frequently to regulate the thickness of a variety of strips. Thanks to an integrated HMI station, the operator can control the process and make adjustments at any point during production.
As previously stated, there are numerous types of rolling mills. On the other hand, rolling mills process various metals through one or more sets of rolls to reduce thickness, create uniform thickness, imprint a design, or compact loose material. FENN Rolling mills can be custom designed and built to assist metal manufacturers in conducting test runs to improve productivity and efficiency.
FENN Rolling Mills
FENN Rolling mills come in various configurations and sizes to suit engineering, manufacturing, and research and development (R&D) applications. With customization options, FENN Rolling Mills provides companies and universities with flexibility and numerous benefits when using this equipment for metallurgical applications. Material handling, processing, gauging, and labour-saving accessories are available for our rolling mill machinery.
Types of Rolling Mills
We briefly discussed rolling mills in the previous two articles and three different types. This article concludes the series by explaining the differences between a four-high rolling mill, a cluster rolling mill, a continuous mill, and a planetary rolling mill.
1. Four-high Rolling Mill: ( Types of Rolling Mills )
Utilizing a four-level rolling mill reduces the material too weak layers. By using backup rolls, problems related to roll deflection may be avoided, which in turn enables the use of smaller work rolls. Due to the decrease in the diameter of the work roll, the total separation force necessary for reductions and the overall energy required for material reduction has been reduced, leading to a more uniform output thickness.
2. Rolling Cluster Mill: ( Types of Rolling Mills )
A rolling mill with four levels is known as a cluster rolling mill. Each of the two working rolls within this rolling mill is backed by two or bigger backup rollers that can roll rigid materials. Rolls with a minor diameter but a very long length may be required to get the effect sought. These mills have the capability of rolling rigid materials such as nickel alloys, titanium, and stainless steel.
3. Continuous Mill: ( Types of Rolling Mills )
Using a series of rolling mills, the same material must pass through each stand in a given amount of time with a continuous rolling mill. The speed must be increased proportionately if the cross-section is reduced. Each set of rolls' speeds is synchronized so that each stand's input speed equals the preceding stand's output speed. The uni-coiler and wind-up reel feed the stock into the rolls and provide back tension to the strip from the front tension.
4. Planetary Rolling Mill: ( Types of Rolling Mills )
This mill comprises two heavy backing rolls surrounded by a slew of small planetary rolls. This mill's main feature is that it hot-reduces a slab to a coiled strip in a single pass. Feed rolls are used to introduce the slab into the mill, and planishing rolls are used at the exit to improve the surface finish.
American Steel is a global buyer and seller of rolling mills, coil processing, tube, pipe, and metal forming equipment. We have experience and knowledge that gives us a competitive advantage over others in our field to ensure that a customer has the suitable machine for the job. Our team is ready to assist you in finding the best solution for your company.
You can rely on American Steel Products for your next project because we have over 60 years of experience and a strong focus on customer satisfaction.
We offer professional renovation and installation services with a genuine commitment to customer satisfaction. We have a track record of success in cost control, planning, scheduling, and project safety.
What is Material Using to Make Steel Rolls?
Roll forming is a process that involves passing a sheet of metal, typically steel, through regular rolls until the desired cross-section profile is achieved. This can take anywhere from a few minutes to several hours. In an atmosphere with room temperature, the sheet is plastically deformed along a linear axis as it moves through the environment. The process results in parts that are longer and contributes to the production of a large number of a particular shape.
Each step of the process serves a distinct objective in the overall development of the piece. At each successive stage, the structure of the metal undergoes a minuscule amount of alteration. The type of metal, its thickness, and how easily it can be formed all influence the size of the roll. As a consequence of this, the following types of material are utilized in a roll forming process:
A) Ferrous Metals
It includes any metal with a bivalent iron compound. Steel, stainless steel, and galvannealed steel are examples of ferrous metals. Several steel roll manufacturers in India use these to make steel rolls.
1. Steel
Steel is made of iron and is malleable below its melting point over a single temperature range without heat treatment. It contains no slag and between 0.05 and 2% carbon by weight. It may contain trace amounts of silicon, manganese, and sulphur, as well as phosphorous.
2. Galvannealed
It is a steel sheet that has been zinc-coated on both sides and then heated to give the metal's surface a zinc-iron alloy coating. Many mill roll manufacturers use galvannealed steel rolls to produce high-quality steel rolls.
3. Silver Stainless Steel
It has a high chromium content, making it staining and corrosion-resistant. Stainless steel resists weak mineral acids, oxidation, organic acids, and other caustic substances.
B) Non-ferrous Metals
Metal That Isn't Ferrous Non-ferrous metals lack iron in their chemical makeup; some of the most common non-ferrous metals used in roll-forming are as follows:
1. Brass
Brass is a copper and zinc alloy with a gold-like colour and high corrosion resistance. Bronze, a copper-tin alloy, is one of the various types of brass. Brass is a highly malleable metal that is used in a variety of applications. Several rolling mill roll manufacturers use brass to produce corrosion-resistant rolls.
2. Copper
Copper is a ductile metal best known for its ability to conduct electricity. It is used in construction materials and is a critical component in many non-ferrous alloys.
3. Aluminium
It is a soft, malleable, lightweight metal with high corrosion resistance. When aluminium is exposed to air, it forms a thin layer of aluminium oxide that protects it from wear.
4. Lead
It is primarily used in various building materials such as roofing metal, gutters, gutter joints, and others.
5. Composites
These are two or more materials that differ in physical and chemical properties.
Applications of Rolling process
Rolling is a method of producing rods.
Rolling produces large-length cross-sections.
Rolling produces steel sheets and plates.
Cement kilns are made solely from rolling.
It is used in the automotive industry to make various parts.
Advantages of the Rolling Process
Rolling produces components with uniform dimensions.
It employs the same tool because the same rollers are in charge of producing various components.
The components in the rolling can be close tolerance, and high-speed production occurs in the rolling.
Disadvantages of the Rolling Process
The cost of equipment is prohibitively expensive.
It is only suitable for large-scale production.
Poor surface finish necessitates secondary operations such as finishing, etc.
FENN Provides a Wide Range of Rolling Mill Machines, including the following:
Two-High: A 2-HI mill is typically used for hot or cold breakdown and finishing bar, sheet, or strip. Several sizes are available, separating force capacities ranging from 10,000 lbs. (4.53 MT) to over 3,000,000 lbs. (1360 MT).

Three-High: A 3-HI mill is a cost-effective milling solution for rod and ingot breakdown.

Four-High: A four-high mill can be used to finish roll thin gauge stock. For narrow-width ribbon and foil products, 6-HI roll inserts are also available.

Combination rolling mill: A combination rolling mill is a versatile "two-in-one" type of metal rolling mill that can perform 2-HI and 4-HI rolling operations.

Tandem: These rolling mills combine two or more mill stands and are used for multiple pass rolling. Tandem mills are used with Turks heads, edger's, dancers, inter-strand tensiometers, and payoff and take-up equipment.

Horizontal: This rolling mill is intended for use in powered metallurgy, plastics, and battery manufacturing.

Laboratory: FENN creates custom, specialized mills to meet the critical needs of metallurgists and scientists in research and university settings and pilot line development. Learn more about FENN's Laboratory Rolling Mills.

Mill with Winders: A mill with winders on either side allows for continuous coil rolling for sheet or thin foil.
FENN Rolling mills come in various configurations and sizes to suit engineering, manufacturing, and research and development (R&D) applications. With customization options, FENN Steel Rolling Mills provides companies and universities with flexibility and numerous benefits when using this equipment for metallurgical applications. Material handling, processing, gauging, and labour-saving accessories are available for our Rolling Mill machinery.
Content Source: – monroeengineering, ispatguru, fenn-torin
Image Source: – danieli