What is LED? Types of LED, Application, Working, Symbol, Diagram & Construction [Complete Details]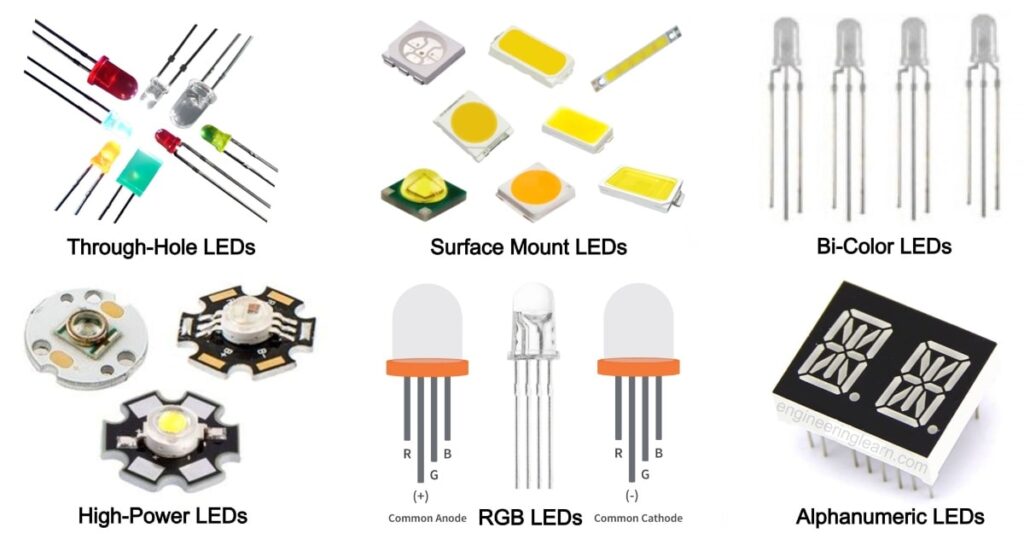 What is LED?
What is LED? (Light Emitting Diode) – Types of LED, Application, Working, Symbol, Diagram & Construction [Complete Details] :- A light-emitting diode (LED) is basically a semiconductor device that transmits light when an electric current is given into it. Light is displayed when the particles that take the current (known as electrons and holes) mix with the semiconductor material. Since light is produced between the solid semiconductor material, LEDs are known as solid-state devices.
The term solid-state lighting, which also consists of organic LEDs (OLEDs), classifies this lighting technology from other sources that use heated filaments (incandescent and tungsten halogen lamps) or gas discharge (fluorescent lamps).
Different Colors of LED
Inside the semiconductor substance of the LED, the electrons and holes are carried inside energy bands. The division of the bands represents the energy of the photons (light particles) that are transmitted by the LED. The photon energy describes the wavelength of the emitted light, which is nothing but its color. Different semiconductor materials with different band gaps produce different colors of light.
LEDs are formed of composite semiconductor substances, which are formed up of components that are identified as III-V materials. Examples of III-V materials usually utilized to make LEDs are gallium arsenide (GaAs) and gallium phosphide (GaP). Till  the mid-90s LEDs had a limited variety of colors, and blue and white LEDs did not exist in particular industries. The development of LEDs based on the gallium nitride (GaN) material system completed a variety of colors. This increased the application of different colors of LEDs in different industries.
LED Symbol

Different Types of LED
1. Through-Hole LEDs

: ( Types of LED )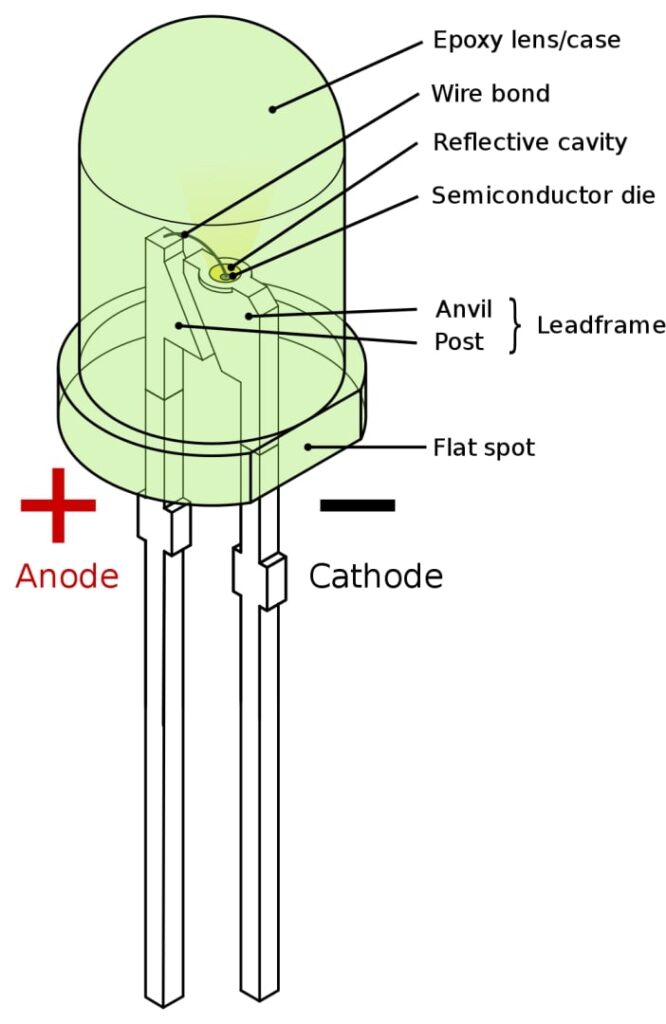 These types of LEDs are found in different shapes and sizes and the most common LEDs are 3mm, 5mm and 8mm LEDs. These LEDs are available in different colors like Red, Blue, Yellow, Green, White, etc.
2. Surface Mount LEDs

: ( Types of LED )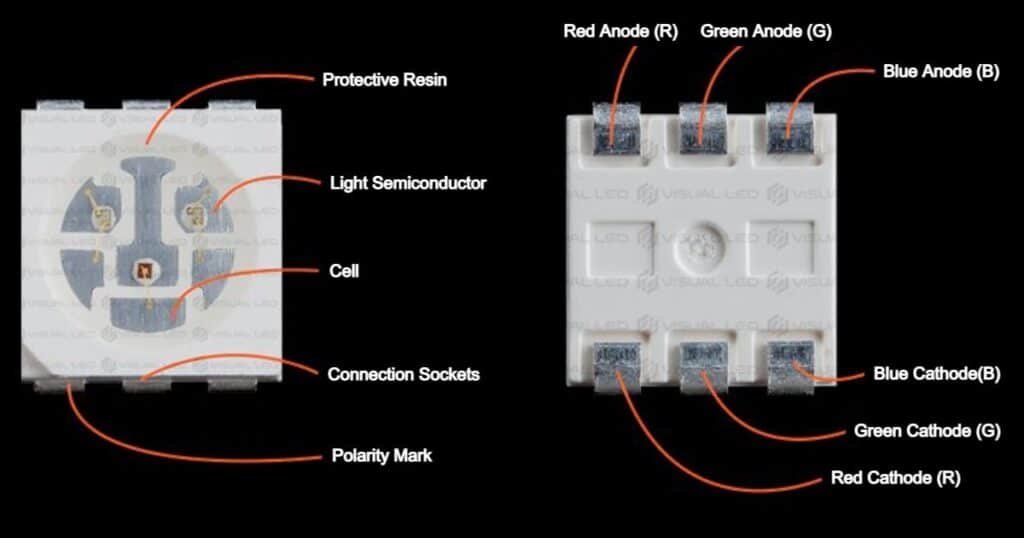 Surface Mount or SMD LEDs are the special types of LEDs that can be simply mounted on the surfaces like PCB and general-purpose boards. SMD LEDs are normally identified by their physical dimensions. For standard one, the most particular SMD LEDs are 3528 and 5050.
3. Bi-Color LEDs

: ( Types of LED )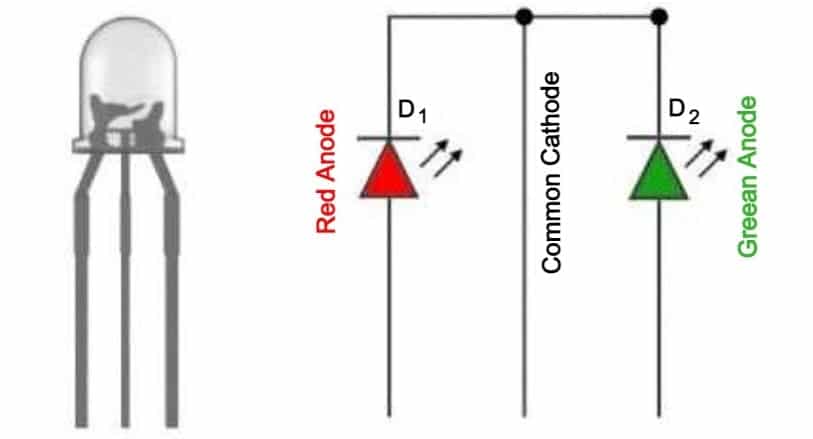 The next type of LEDs are Bi-color LEDs. As the name implies, they can transmit two colors. Bi-color LEDs have three leads, in which there are two anodes and one is a common cathode. Depending on the order of the leads, the color will be formed.
4. RGB LED

: ( Types of LED )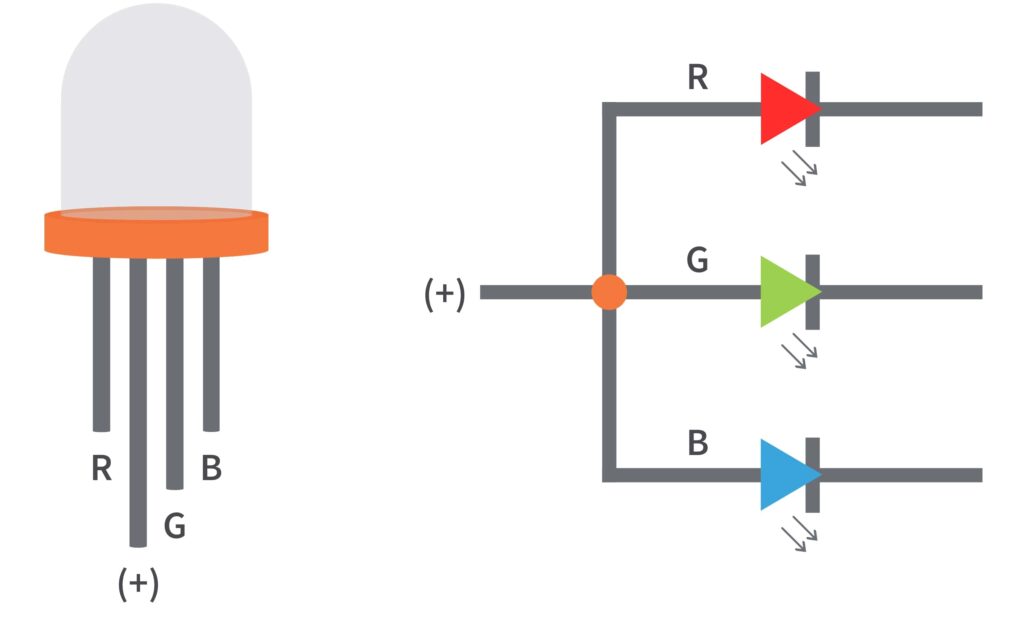 RGB LEDs are the most beloved and most stylish LEDs among hobbyists. Even computer builds are very popular for performing RGB LEDs in computer cases, motherboards, RAMs, etc. RGB LED includes three LEDs on a single chip and by a method called PWM (Pulse Width Modulation), we can control the output of the RGB LED to produce a wide range of colors.
5. High-Power LEDs

: ( Types of LED )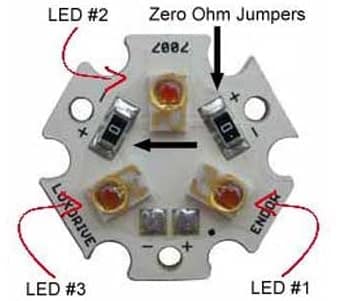 The LEDs having a power rating of more than or 1 Watt is called a High Power LED. This is because conventional LEDs have a power dissipation of few mill watts. High – Power LEDs are very radiant and are often used in Flashlights, Automobile Headlamps, Spotlights, etc. Since the power dissipation of High – power LEDs is large, a decent cooling and method of heat sinks are required. Also, the input power needed for these LEDs will be usually very high
Applications of LED
There are many applications of LEDs and some of them are explained below.
LED is used as a bulb in homes and industries.
The light-emitting diodes are employed in a vehicle like cars, bikes etc.
LED display boards are standard now these days and are used outside like accommodation signs, billboards, road signs, etc. In signboards which have many languages conveying signals, the use of more LEDs will be profitable in terms of less power dissipation.
LEDs are employed at traffic lights
Image Source :- davidhaillant, circuitbread