9 Types of Thread Taps and Their Uses [with Pictures & Names]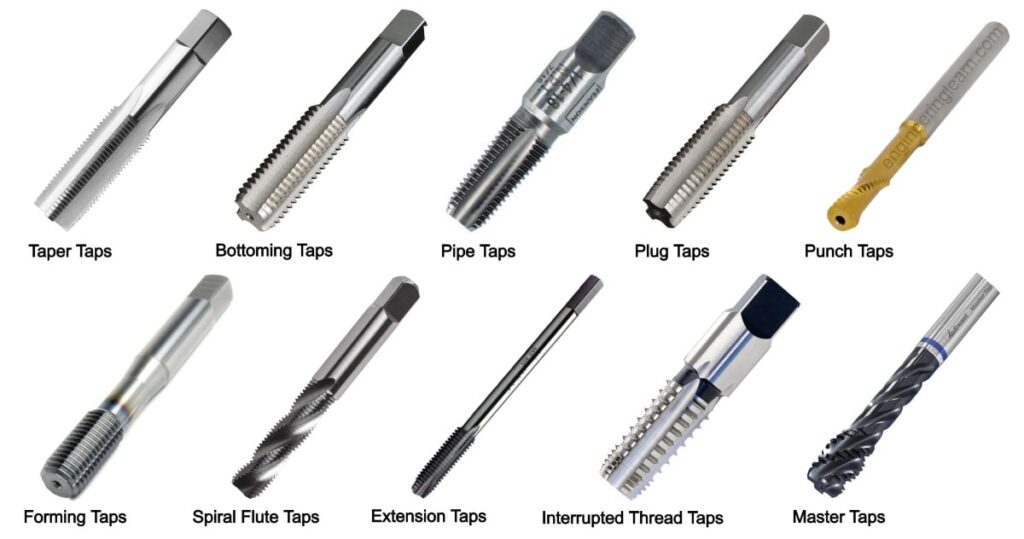 What are Threading Tools?
Types of Thread Taps and Their Uses [with Pictures & Names] :- Threading tools are also known from other names such as threading tap and dies. The threading tools are basically metal cutting tools. These tools are used for making a thread on the work-piece. In order to use threading tools, they must be mounted on the thread mill. Other types of threading tools such as threading heads, thread milling cutters and thread cutting abrasive disks are also widely in use these days.
Significance of Threading Tools
Dies and taps are the most common threading tools. Both the tools that are dies and taps are used for creating screw threads on the work-piece. A tap is used for cutting of the female segment of a mating pair (nut) whereas a die is used for cutting of the male segment (bolt) of the mating pair. The operation of cutting threads using a threading tap is known as tapping. The operation of using a die to cut threads is known as threading.
Types of Thread Taps

/ Types of Tapping Tools
There are a variety of threading taps, including hand taps, plug taps, spiral point taps, power taps, just to name a few.
1. Hand Taps

: ( Types of Thread Taps )
Hand taps are a universal type of threading tools which are found in the market (local hardware stores). Despite the fact that these hand taps are so widely used, they are not generally used for CNC operations. Hand taps are said to be one of the cheapest threading tools available because they give satisfactory performance at a reasonably low investment. There are two types of hand taps-
A) Taper Taps
Taper taps are ideal tools for thread cutting. It is accompanied by a various types of tapers in order to simplify the threading cutting operation. There wide availability is their big advantage.
B) Bottoming Taps

Bottoming taps are not fabricated with a narrowing end because it is primarily for threading the base of its reach. The threading achieved with bottoming tap is best suited for threading blind holes. However it should be taken care that the hole should be threaded with the taper tap first and then the bottoming tap should be used on it.
2. Pipe Taps

: ( Types of Thread Taps )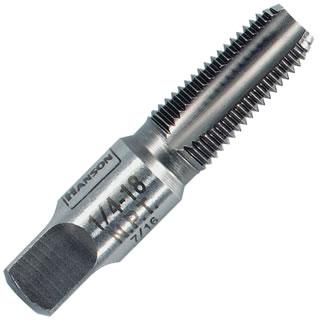 Pipe taps are explicitly used for manufacturing pipe threads. They usually come in both tapered pipe taps and straight pipe taps. Straight pipe taps are employed the pipe thread is required to be straight whereas tapered pipe taps are used when you want the pipe thread to be tapered.
3. Plug Taps

: ( Types of Thread Taps )

Plug taps are tapered with a thread count of 3-5. Taper taps normally have more threads as compared to the bottoming taps. One must know that the bottoming tap is occasionally referred to as the plug tap in some places. Plug taps are sometimes also known as the second tap. This means that they are often applied afterwards.
4. Power Taps

: ( Types of Thread Taps )
Power taps are power-driven taps. Fundamentally, they are a spiral point plug tap. Sometimes it is also referred as the gun tap. This type of tap has cutting rim displaced to the tap centre-line at a specific angle. This design serves as an advantage as it aids in breaking chip continuously and thrown out forward into the hole, averting crowding. Power taps are characteristically used in holes that pierce through the full length of material so that the chips can escape.
5. Forming Taps

: ( Types of Thread Taps )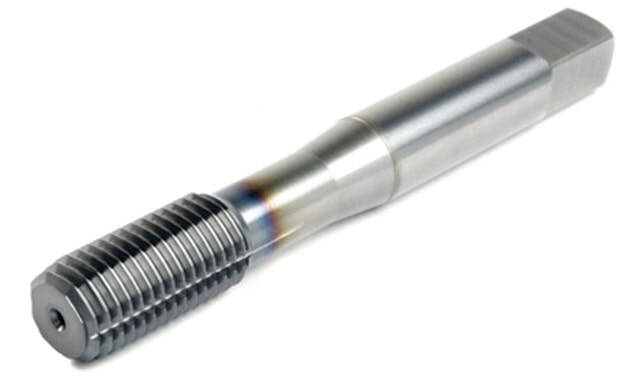 Forming type is entirely distinct from other types of taps. Forming taps compels the displacement of metal into thread shape after being twisted into the hole in spite of cutting metal from the sides of the hole like the general cutting taps. Forming taps can be used only for malleable metals like aluminum or mild steel. Due to this reason the threads formed by forming taps are strong and tough as compared to the threads which are formed by cutting.
6. Spiral Flute Taps

: ( Types of Thread Taps )

Spiral flute taps closely resemble the end mills because of the open spirals. Spiral flutes are used for emitting chips out of the hole. Spiral flute taps are especially helpful while working with blind holes. Also, the spiral flute taps can be easily controlled, which makes them perfect for holes with interruptions. In comparison with the hand taps the spiral flute taps are essentially handier despite there are attributes that overlap.
7. Extension Taps

: ( Types of Thread Taps )
This type of tap has extended hanks. Such design is explicitly for the objective of allowing reach to holes that are very deep. Because of the nature of these taps, extension taps are also known as the long shark taps.
8. Interrupted Thread Taps

: ( Types of Thread Taps )

For an interrupted thread tap, a tooth is present for every other thread. The extraction of chips is conducted very smoothly owing to its unique design. Also, interrupted thread taps are quite alike the power taps because both of them permit chips to exit very easily.
9. Punch Taps

: ( Types of Thread Taps )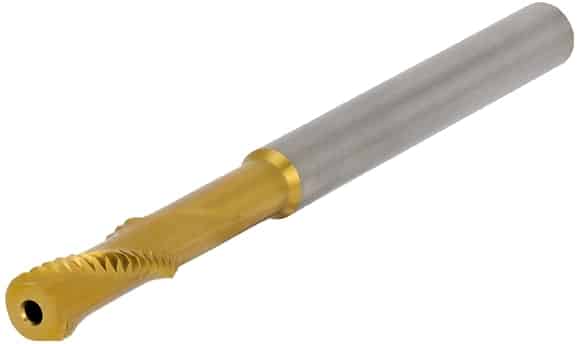 HSSE-PM alloy is mainly used for the manufacturing of punch taps. This alloy is sturdy and durable both. These taps are accompanied with teeth formed to generate threads in a single go. It basically comprises of two lines of flutes at 180 degrees from each other and continuing in a helical curve down to the required application depth. The reduced tool route aids in quick completion of the threading forming, as small as less than half a second. This leads to considerably less energy expenditure during machining and trimming down the threading times by 75%.
Before the starting of the threading operation, the tool punches into a pre-drilled hole. The first tooth of each flute makes a helical cut that aids in guiding the tap to the application depth. Once the tap attains that depth, the threads are then cold formed by a coetaneous movement of feed and rotation. The thread has a half left-turn in the pitch, and every tooth generates half a thread (approximately 180 deg.). After the creation of the threads, the tap is withdrawn in a helical movement from the hole by the means of grooves. The completed threads are disrupted by two helical grooves offset by 180 deg.
Thread strength achieved from punch taps is equivalent to the traditionally machined threads with thread depths equal to two times the hole diameter.