Types of Glass Cutting Tools and Their Uses [with Pictures]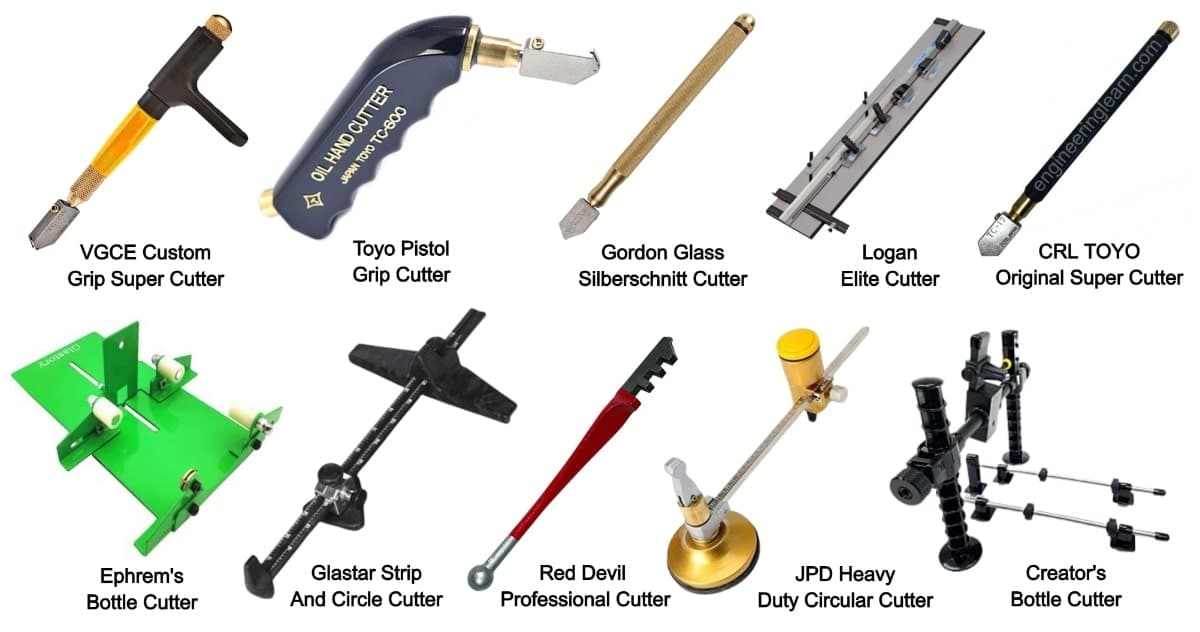 Introduction
Types of Glass Cutting Tools and Their Uses :- Glass cutting may be defined as the method of cutting the structure of glass with the score line which can be broken by providing moderate force, from this the glass is separated into two parts with the score line. The cutting process is same, whether it done for our self or for industries. The difference only lies in the size and thickness of glass required.
Types of Glass Cutting Tools
Glass cutting tools may be defined as the tools which are used for creating the correct score line for a clean cut and consistent break.
There are  following types of glass cutting tools –
1. VGCE Custom – Grip Super Cutter
VGCE custom grip super cutter is very useful tool for glass cutting because this tool has an adjustable saddle so we can find the perfect setting without having twisting our hand into any unnatural positions.
This is ideal for arthritis suffers and works well even without oil and also allows for extended work duration.
2. CRL TOYO Original Super Cutter
CRL Toyo original super cutter is a professional type of cutter. This is a brass handle head oil cutter. CRL Toyo original super cutter has the ability to cut the glass into slices just like a butter cut through hot knife. The size of this tool is small so we can put it in our tool box. The wheel hones angles are up to140 degree and their heads are long lasting. This tool is great for working on mirrors.
3. Logan Elite Cutter
Logan Elite cutter is a very useful tool for glass cutting. Logan Elite tool has the ability to cut the glass in a straight line in a very effective way. It requires a very little pressure. Logan Elite tool comes with a quality lubricant which helps us to handle easily.
4. Ephrem's Bottle Cutter
Ephraim's bottle cutter is widely used in cutting of glass bottles or jars. This includes an adapter kit which cuts the bottom surface easily and it is sturdy and well made. This is fully automatic and there is no need of instructions.
5. Toyo Pistol Grip Cutter
Toyo pistol grip cutter is defined as that it is oil lubricating carbide pistol style cutter which is very much comfortable to use. Toyo pistol grip cutter has a replaceable carbide steel wheel which ensures that it is always sharp and ready to use. The grip is also very comfortable and allows it for precision cut. The Toyo pistol cutter is a leak free design that offers effortless weight distribution and holds little bit of oil.
6. Creator's Cutter
Creator's cutter is one of most important glass cutting tool. Creator's cutter is very much stable and allows for the intricate cuts. This cutter is work well on square items if we want to cut widely size pieces then this is best cutting tool. Creator's cutters are good in making uniform cuts and require a very little setup. But it is very costly as compare to others.
7. Gordon Glass Silberschnitt Oil Glass Cutter
Gordon Glass Silberschnitt Oil-Glass Cutter is also a very good glass cutting tool. This tool is better for cutting stained glass. This tool is has a brass handle and also has finger grip which is very useful in cutting.   
8. Glastar Strip And Circle Cutter
Glaster strip and circle cutter is mainly defined as the cutting tool which is used to cut the glass in perfectly round pieces. This cutter also creates all sorts of other different shapes. This is good tool for mosaics and also for big jobs.
9. JPD Heavy-Duty Circular Cutter
JPD Heavy duty circular cutter tool is used for cutting clean and simple cut. The suction cup of this tool is very stronger to get the job done. This cutting tool is very durable and it is very good for glass plates. However be aware that the measurements are in metrics.
10. Red Devil Professional Glass Cutter
Red devil professional glass cutter is a heavy duty; Shaw style glass cutter .This is made up of steel with a ball at end and also has a steel wheel. This tool can be operated only by professional workers or users.