9 Types of Race Cars – Explained with Complete Details [With Pictures & Names]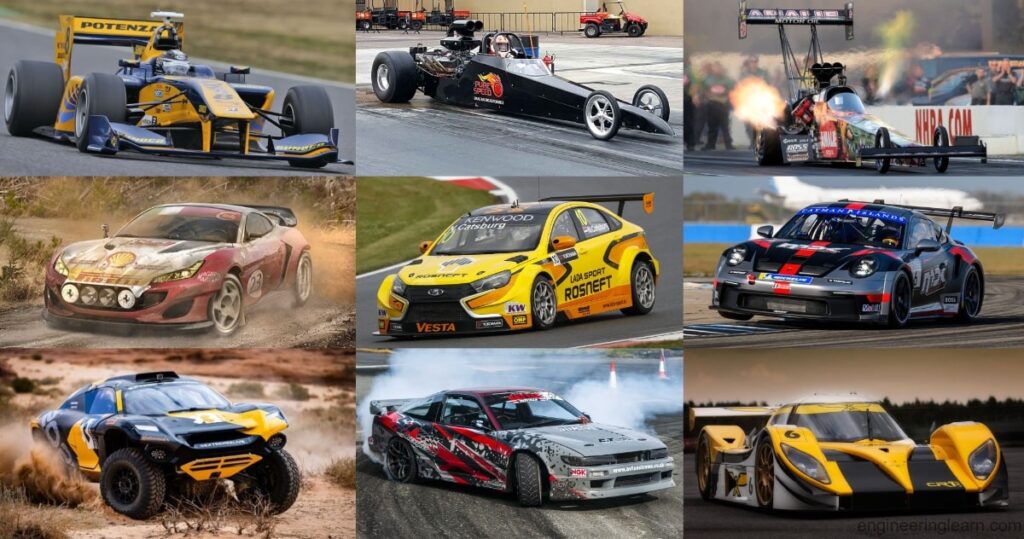 Introduction
Types of Race Cars – Explained with Complete Details [With Pictures & Names]: – Car racing is one of the human race's most fascinating sporting activities. It has always been an essential part of the motor culture, dating back to the early days of vehicle racing. Automakers utilized these racing events to test various elements, components, and systems, as well as in marketing and promotional activities. As a result, it's simple to observe how many types of race vehicles have grown and evolved, getting quicker, safer, and more efficient. ( Types of Vehicles )
Race vehicles have come a long way from the days of open, single seaters wreaking havoc. Modern race vehicles are quicker, safer, and more refined than ever, making them thrilling and enjoyable sports machines.
However, they exist in various varieties that appeal to a particular set of specialists. Most of them differ in drivetrains, technology, engines, and design. Continue reading to learn more about the various sorts of race vehicles. ( Types of Cars )
Different Types of Race Cars
1. Open Seater: ( Types of Race Cars )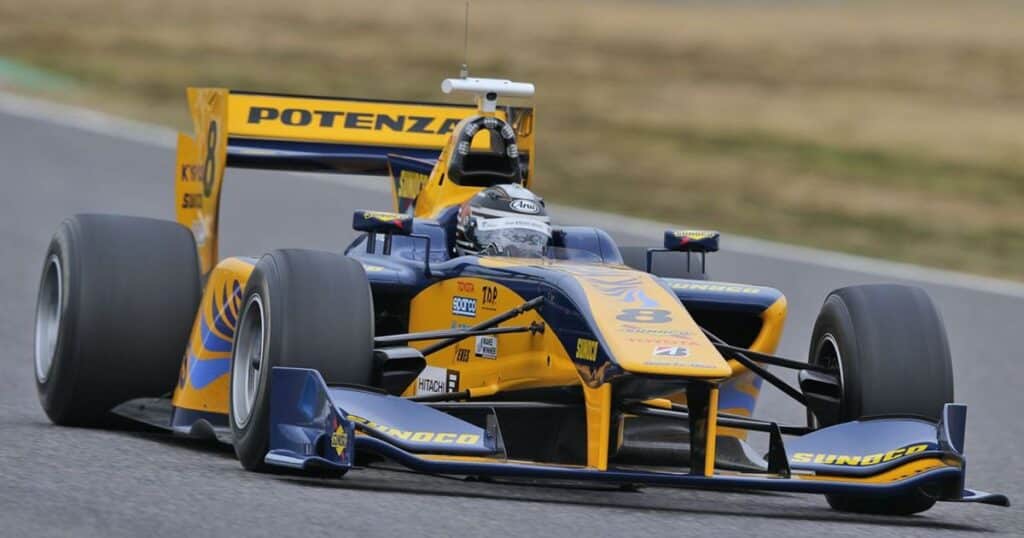 The open seater grew from the early days of the automobile industry into one of the quickest and most aggressive kinds of racing machines over the years. Open or single-seaters, as they are frequently called, resemble low-flying war aircraft rather than vehicles, with pointed noses, numerous aerodynamic aids, and massive wings at the back. The engine is placed directly behind the driver, with exposed suspension components and a lightweight and large wheel at the back delivering power and grip.
Due to the extreme engineering approach, uncommon materials, and enormous power, open seaters are always speedy and have excellent handling.
The most popular open-seater competitions are, of course, Formula One and Indy Cars. Several comparable rounds, such as Formula 2 or Formula E. (electric vehicles), still follow the same principle but have less power and performance. True auto racing lovers feel that open seaters are the most exciting races to witness.
2. Drag Cars: ( Types of Race Cars )
Because of their spectacular design, technology, and construction, top fuel dragsters and funny cars are not missed. On the other hand, drag vehicles are more difficult to see but are still designed for the strip. Drag cars are modified from conventional production models to give drivers the highest acceleration statistics possible. This meant that all unnecessary weight was eliminated, engines were outfitted with superchargers or twin-turbo systems, a short-ratio gearbox was added, and the suspension was reworked to handle the increased power and withstand repeated strong launches off the line.
The enormous rear tires in the back and tiny tires in the front, Plexiglas windows, and racing roll-cage distinguish such drag vehicles. Most automobiles are not street legal; however, serious drag racing fans may get their race cars registered and utilized regularly.
3. Touring Cars: ( Types of Race Cars )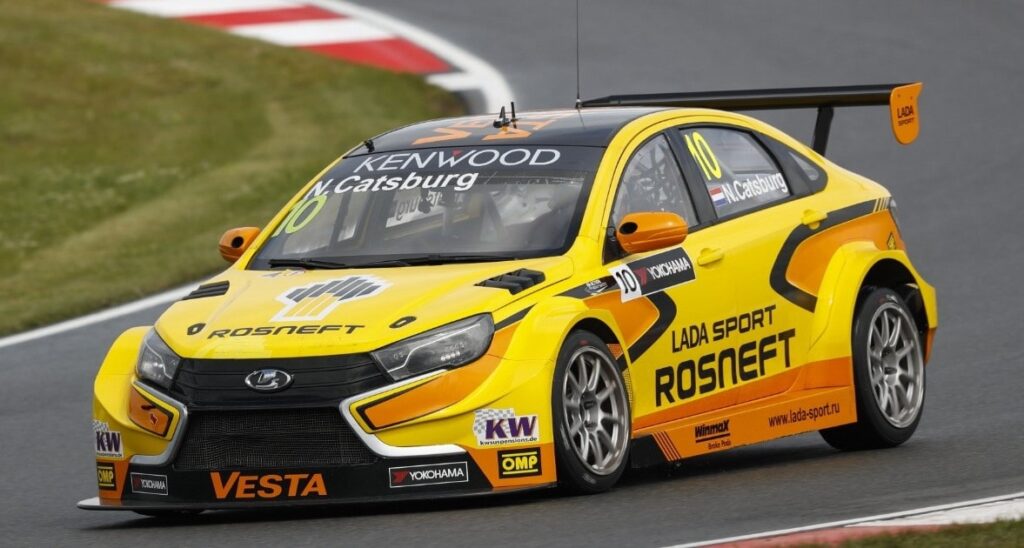 Not all vehicles, such as open or single seaters, have a radical appearance and are handcrafted from the ground up. Some racing vehicles begin their career as standard autos straight off the assembly line. Touring cars are racing automobiles that evolved from ordinary sedans or two-doors. Although touring cars are conceptually similar to stock car racing, popular in the United States, there are substantial variations in regulations and design, which will be discussed later in the article.
The touring car championships are especially popular in Europe and Australia, where fans love watching stock replicas of their cars race. Different racing series have other regulations that control construction technology, power, and performance, but the essential premise stays the same. On the surface, touring vehicles may resemble production versions, but they are outfitted with cutting-edge equipment.
4. Rally Cars: ( Types of Race Cars )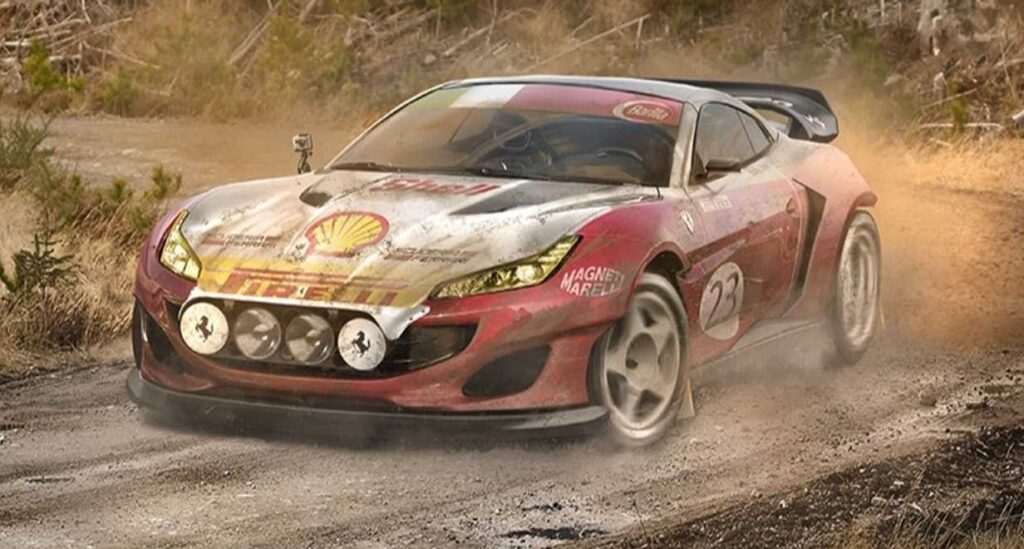 Rally cars are trendy in Europe and the rest of the world and have been an essential element of the worldwide racing scene since the 1950s. The basic concept of a rally car is to take a conventional production vehicle (usually a compact hatchback) and transform it into a blisteringly fast machine for driving on gravel, mud, asphalt, or snow. Please remember that rally vehicles are not full-fledged off-road racers; they are meant to be utilized on roads but in considerably less optimal circumstances than racing cars raced on circuits.
5. Top Fuel Dragsters: ( Types of Race Cars )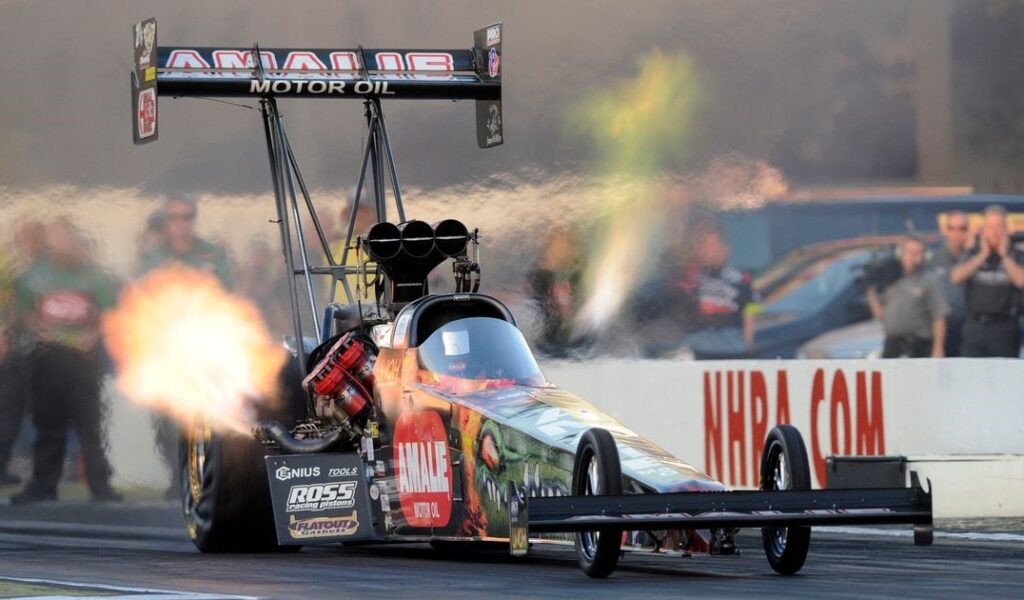 Drag racing is a popular type of car racing. Drag races, for unfamiliar people, are a form of acceleration competition between two automobiles. The vehicles are lined up next to each other, and the winner is the first to complete the quarter mile (402 meters). Drag races are more accessible to arrange than Indy Car races, for example, since the drag strip is smaller, easier to build, and the rules are considerably more straightforward. One of the critical factors in the popularity of drag racing and illegal drag racing (street racing) is its simplicity.
Top fuel dragsters are specially designed drag cars with incredible acceleration statistics and cover the quarter-mile distance in less time than certain Sports vehicles that must surpass 60 mph. Top fuel dragsters have very thin bodywork and are optimized for speed and acceleration., a long front end, the engine behind the driver, and massive back tires. One of the most exciting and famous car racing classes is propelled by nitro burning V8 engines that produce a deafening roar.
6. Drift Cars: ( Types of Race Cars )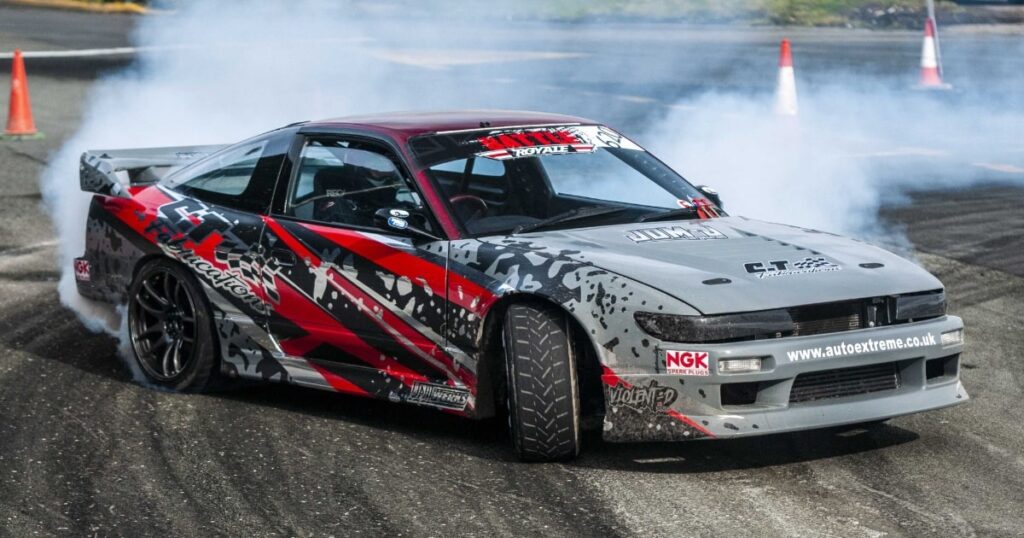 Drifting is a relatively new and popular style of racing that has swept the automobile industry in the last decade or so. For new people, drifting is the talent of driving sideways, which is both visually beautiful and challenging to master. Drifting is increasingly popular among younger vehicle enthusiasts in Japan and has become a part of the mainstream racing scene lately. The goal is to perform the most extended drifts, with the car sideways almost 90 degrees at the fastest possible speed. This is how you win a drift competition.
Drift cars demand significant preparation to function correctly. Aside from solid engines, drift vehicles have various technical characteristics that no other racing car possesses. Most drift vehicles are so severe that they are not road legal and must be utilized solely on the track.
7. Off-Road Racing Cars: ( Types of Race Cars )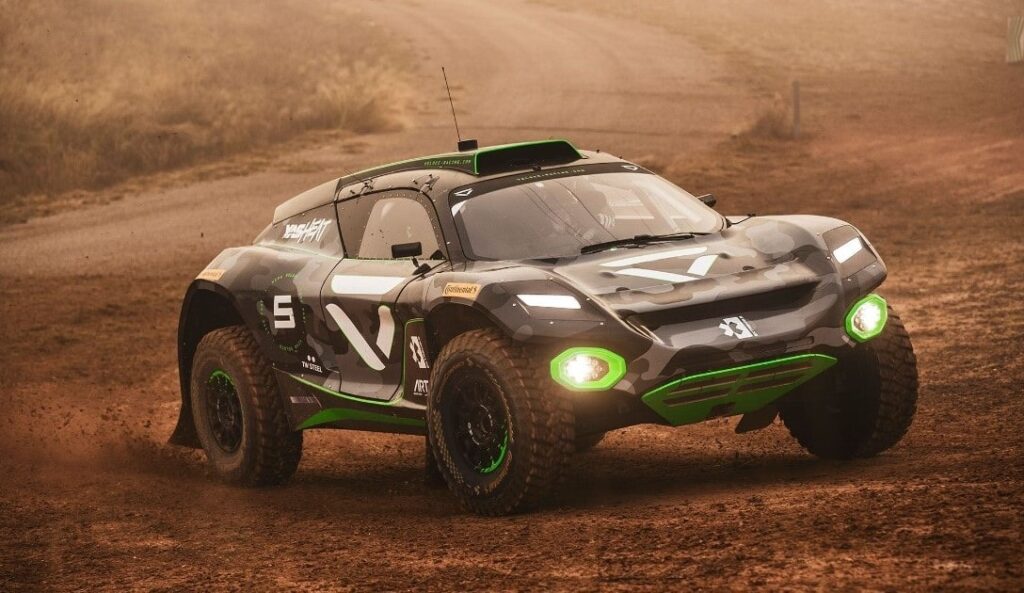 The popularity of SUVs catapulted off-road racing into the racing limelight. Off-road racing has existed for a long time, but they have recently gained appeal among many, thanks to big sponsors and racers. If you assume off-road racing cars are comparable to rally cars, you're incorrect since the only thing they have in common is all-wheel drive.
The Off-Road Race Cars are built to run over the most challenging terrain, giant boulders, and bumps at high speeds. They are fitted with innovative suspension, allowing them to leap 10 feet tall and absorb all the nodes while maintaining speed and control over the desert-like conditions. Races such as the Baja 1000 and the highly regarded Stadium Truck series are excellent examples of this type of race vehicle. ( Types of Off-Road Vehicles )
8. Prototype Race Cars: ( Types of Race Cars )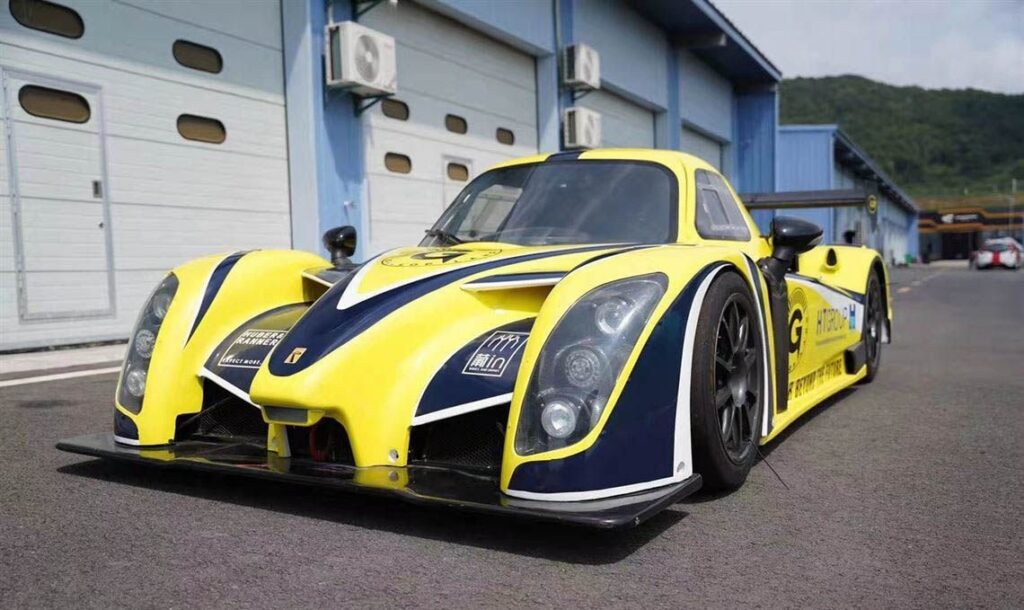 The prototype class is called LMP per FIA specifications (Le Mans Prototype). It signifies a custom-built car with unique technologies and engine architecture that is not based on any production model. These cars compete in the premier class of the 24 Hours of Le Mans, Sebring, and the American Le Mans Series. Race car prototypes represent the peak of racecar technology, design, and materials. Nowadays, almost all LMP racers are hybrids.
This sort of racing automobile has been around for a long time and represents models meant to push automotive technological boundaries. While stock/touring car racing may be more entertaining for spectators, LMP models are at the bleeding edge of the business, testing the limits of innovative concepts and racing drivers.
9. Cup Racing Cars: ( Types of Race Cars )
Conclusion
Car racing is as ancient as the automobile industry itself. There is even a legend that racing began when the second vehicle was built. Racing has been an essential component of vehicle culture from the dawn of time. It aided in advancing technology, testing numerous parts, systems, and features, and playing a vital role in marketing and promotion.
You're mistaken if you believe that all race cars are the same. The structure, technology, engines, and drive trains of the many classes, racing forms, championships, and so on are radically varied.
Content Source: – lemonbin, themanual, motorverso, mobilecarwash
Image Source: – carthrottle, virginexperiencegifts, fia, motor1, pinterest, shopping, 51gt3,