8 Types of RV (Recreational Vehicles) – [with Pictures & Names]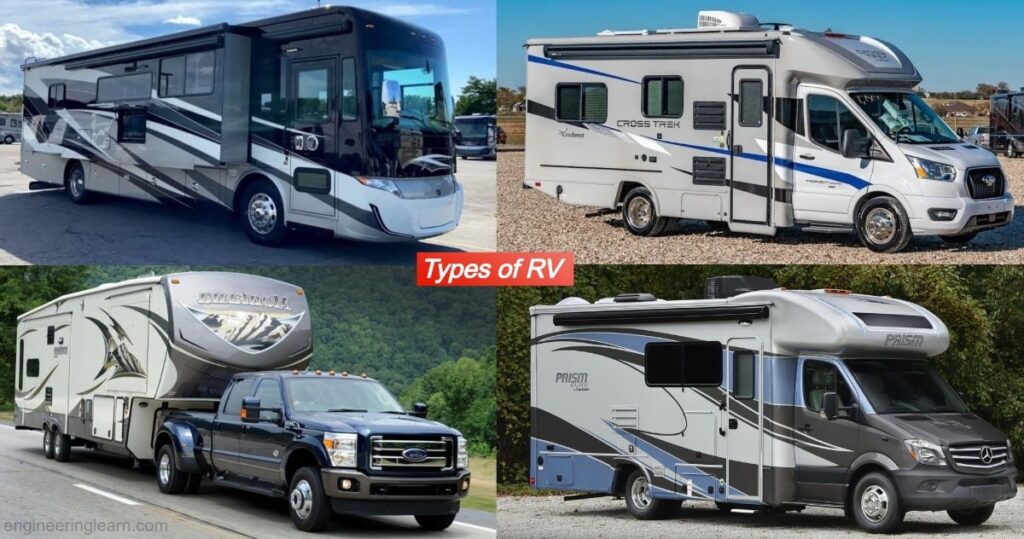 What is RV Vehicle?
Types of RV (Recreational Vehicles) – [with Pictures & Names]: – A recreational vehicle (RV) is a motor vehicle or trailer that incorporates living accommodations meant for lodging. Motorhomes, campervans, coaches, caravans (also known as travel trailers and camper trailers), fifth-wheel trailers, popup campers, and truck campers are examples of RVs. (Types of Vehicles)
An RV's standard features include a kitchen, a restroom, and one or more sleeping areas. RVs can be practical, with merely sleeping quarters and basic cooking facilities, or wealthy, with amenities such as air conditioning (AC), water heaters, TVs with satellite receivers, and quartz worktops.
RVs can be trailers (towed behind motor vehicles) or self-propelled vehicles. The majority of RVs are single-deck; however, double-deck RVs do exist. Larger RVs sometimes include extendable sidewalls (called slide-outs) or canopies to allow for a more compact size when in transportation.
RVs are widely utilized as temporary living accommodations when traveling. People may prefer to take a road trip in an RV and sleep in it rather than in a hotel room. They may even choose to tow their automobile from the rear of the RV so that they may go about more simply once they get to their location.
Different Types of RV Vehicles
1. Class A Motorhomes: ( Types of RV )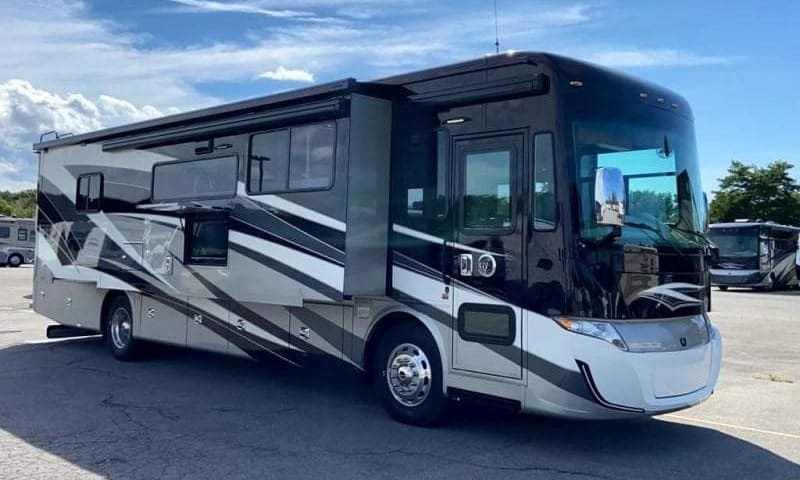 Motorhomes are a common sight on the RV scene. When the issue of RVs is brought up, most people immediately think of this. An RV allows individuals to travel while maintaining the usual comforts they have grown to expect. A good RV may be acquired and outfitted with all of the comforts of home, making travel much less stressful.
Motorhomes are classified into three types. Class A is the first and most costly classification. These RVs are incredibly roomy and will give the ideal traveling experience for individuals who own them. Some of these class A motorhomes are huge, reaching lengths of 45 feet.
2. Class B Motorhomes: ( Types of RV )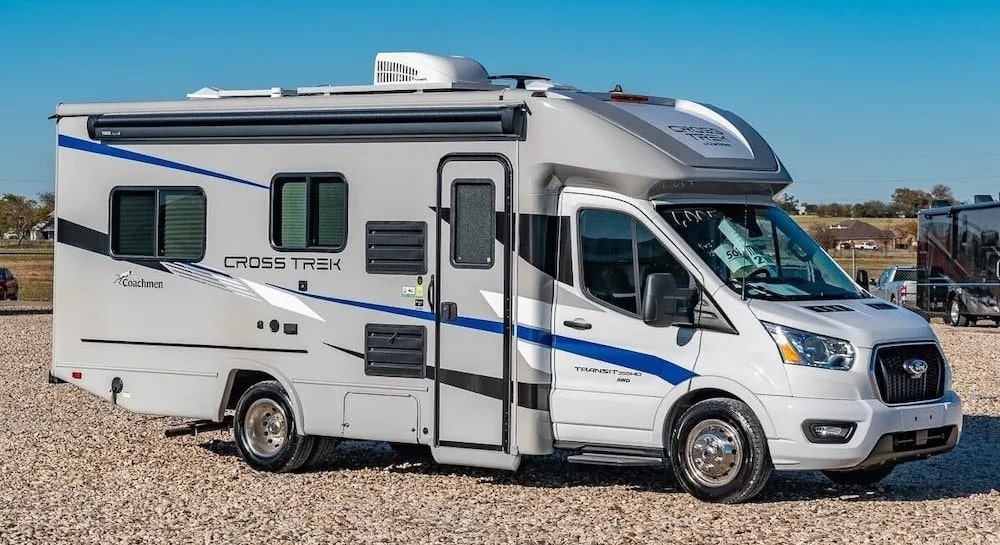 Class B RVs are smaller and less expensive than the previously stated class A versions. These vehicles are often constructed with vans as the general frame. The inside roof of most of these class B motorhomes will be relatively high. Most persons of ordinary height should be able to walk erect without difficulty.
Similar to the class A motorhomes, there are variances between the many class B vehicles. Some class B cars will be similar to campervans, while others will be unique. This motorhome can operate on gasoline, although certain types run on diesel. Whatever type you choose should make your camping trip much more enjoyable.
3. Class C Motorhomes: ( Types of RV )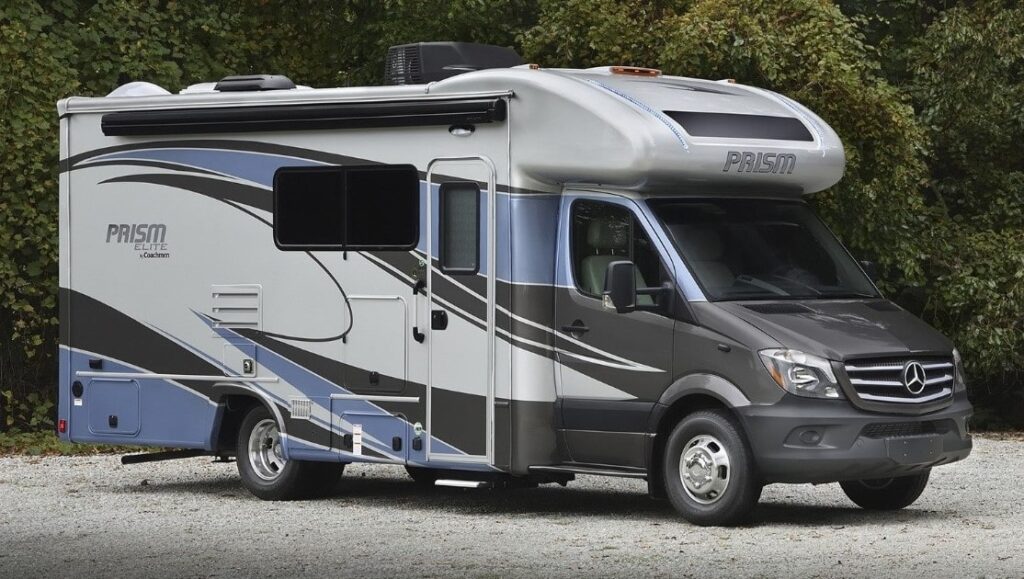 A class C motorhome will be far more suitable for family use than a class B vehicle. These class C RVs are significantly larger than class B models. Said, there is more useable room in the RV's living portion, making it more convenient. You can utilize this motorhome efficiently for camping and road excursions.
A class C RV is significantly more suited to family use than a class B vehicle. Class C RVs are considerably more extensive than class B vehicles. Said, there is more usable space in the RV's living area, making it more convenient. You can use this RV effectively for camping and road trips.
4. Travel Trailers: ( Types of RV )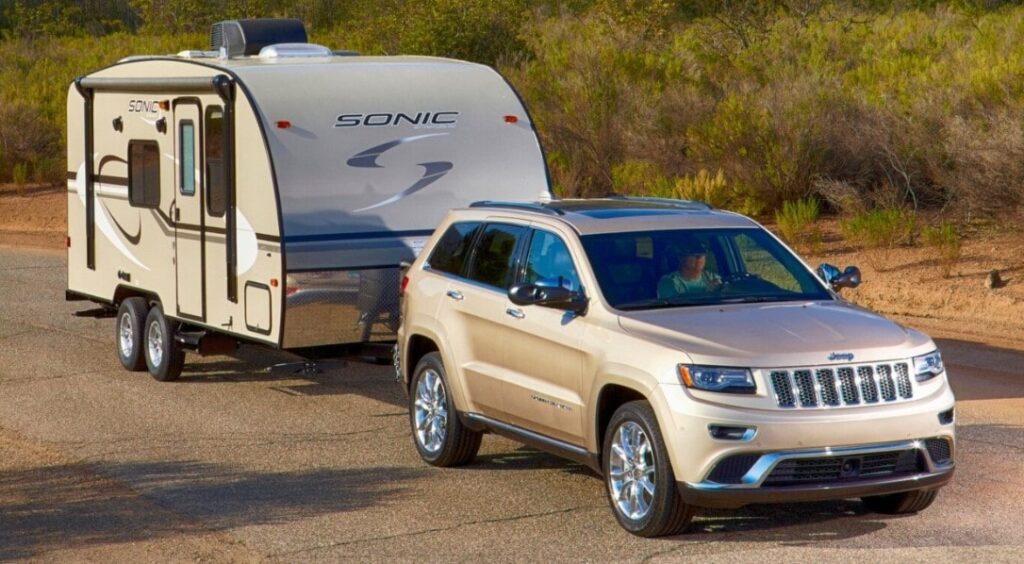 Travel trailers are ideal for folks who wish to take the comforts of home with them on the road. You can go camping while still feeling as if you are sleeping in a familiar atmosphere. Travel trailers will include a fully functional bathroom, a shower, a small kitchen for preparing meals, and other amenities. These travel trailers may sometimes be bare-bones to maintain the overall sensation of roughing it, but they may also be filled with loads of entertaining items if desired.
A travel trailer may be converted into an authentic mobile home atmosphere. Some individuals decorate their travel trailers with beautiful furnishings and comfy beds. It is entirely up to your unique preferences and creativity. A travel trailer may be used for almost anything.
5. 5th Wheel Trailers: ( Types of RV )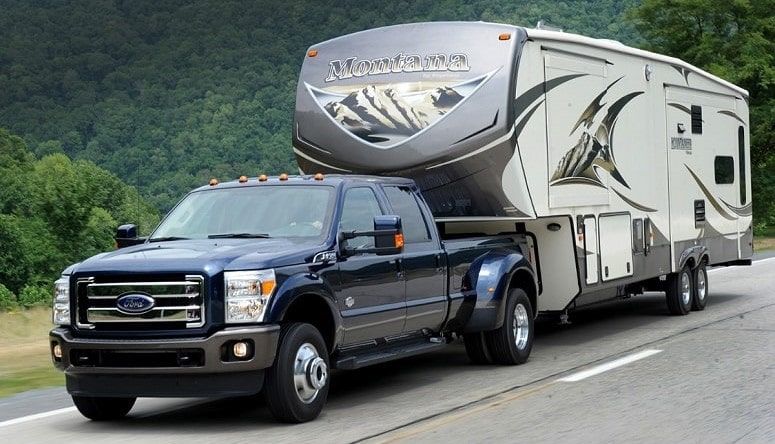 Fifth-wheel trailers are among the most typical trailers pulled behind cars. Because of the way it is made, towing this sort of trailer is pretty straightforward. These fifth-wheel trailers are made to dangle over the top of your truck bed. The link to your hitch is very secure, and you will not notice any looseness in the connection when driving.
SUVs and even other cars may tow some trailers. A 5th wheel trailer will have the constraint of only being able to be utilized with a car with the appropriate size bed. This isn't good since the majority of individuals who might consider acquiring one already possess one. Before proceeding with a purchase, it is necessary to be aware of these limits.
6. Sports Utility RV Trailer: ( Types of RV )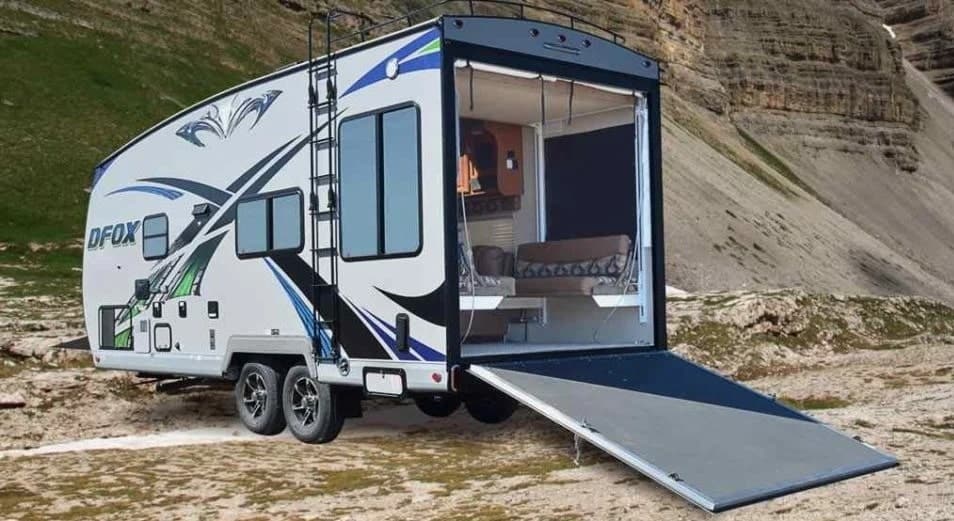 These RV trailers are essential for folks who enjoy bringing their ATVs on vacation. If you're heading somewhere to ride your beloved ATVs, snowmobiles, or other sorts of vehicles, you'll need to be able to transport them appropriately. This sports utility RV trailer will be able to assist you in doing so. You'll easily pull this behind a powerful truck, and you'll be able to arrive at your destination securely with all of your automobiles.
Some people have started calling this sort of trailer a toy hauler. This appears to be an apt name in several aspects. People utilize these trailers to transport their favorite toys to their desired location. If you are a snowmobile fan or enjoy riding dirt bikes, you will undoubtedly want to possess a trailer like this.
7. Folding (Pop-Up) Tent Trailer RV: ( Types of RV )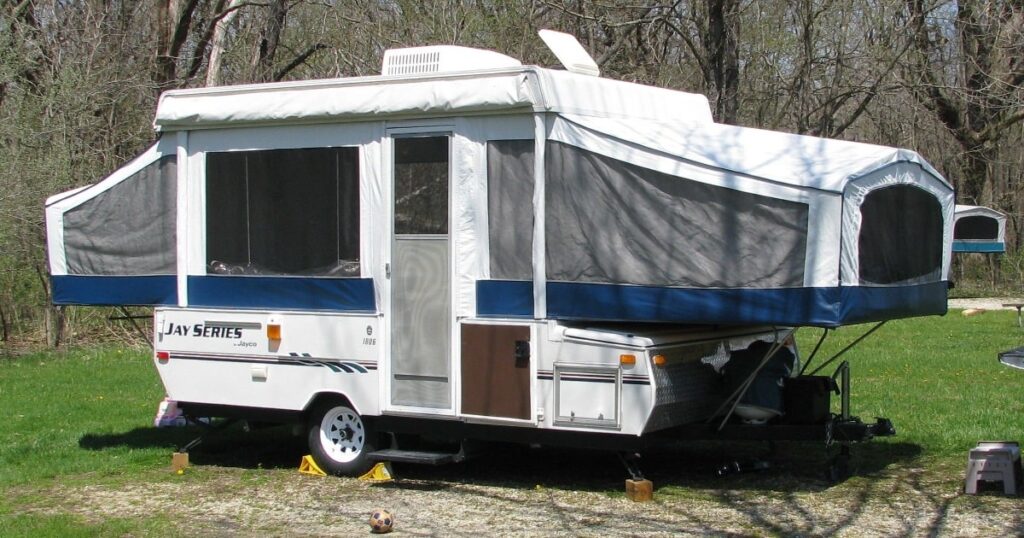 One of the most cost-effective solutions for you to consider is a folding tent RV trailer. This is an attractive option if you want to start camping but want access to something fancier than a tent. You'll be able to easily tow this folding tent trailer RV behind your vehicle or SUV, and it will serve your needs well.
These trailers will generally feature little tents that pull out on either side. This provides a comfortable place to sleep and eliminates the risk of getting eaten alive by bugs outside. In many aspects, it is superior to a standard tent. It's like halfway between staying in a camper and sleeping in a tent.
8. Diesel Pushers: ( Types of RV )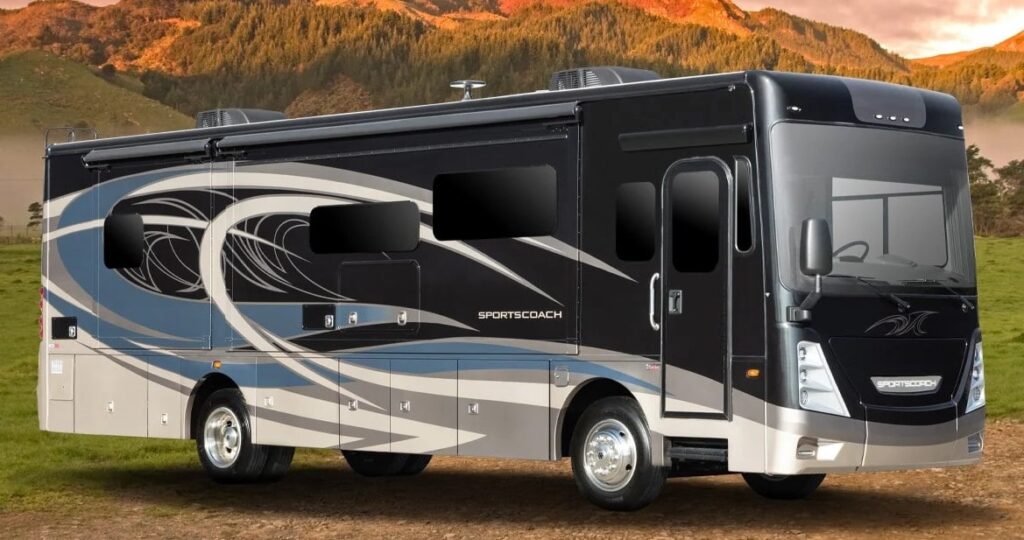 Diesel pushers are RVs that are distinct from the standard versions described above. The engine on these diesel pushers is positioned in the back. This means that the car can truly show off its power. The pure horsepower of these diesel pushers is fantastic and will consistently bring you to your goal.
This is a pricey type of RV to buy. Several factors will determine the actual cost of this sort of motorhome. The number of amenities it has inside and the size of the diesel pusher will go a long way toward determining how much it will cost you.
Conclusion
The most typical use of an RV is as a temporary lodging when traveling; nevertheless, some people utilize an RV as their primary abode. Snowbirding is the practice of migrating south each winter to a warmer environment in the United States and Canada. A "grey nomad" is a retired individual who travels in a recreational van in Australia.
RV living is becoming increasingly popular. In reality, one million Americans live in recreational vehicles. While living in an RV is permitted across the United States, there are restrictions on where and how long RVs can be parked. Some owners install solar panels on their RV's roof. RVs are commonly seen during rural gatherings such as Burning Man.
However, motorhomes are more expensive and require more care, and they are generally more difficult to store due to their size. As a result, they are frequently chosen by enthusiastic RV travelers or those considering RV living.
Content Source: – thorindustries, lemonbin, rvsnappad, caravanindustry
Image Source: – c4cloud, camperguide, abmsale, drivinvibin, kempoo, gotraveltrailers, wikimedia, forestriverforums